NY Prison Break: 2 Escaped Convicts Now Among U.S. Marshals' 15 Most Wanted Fugitives –– List Reserved For 'The Worst Of The Worst'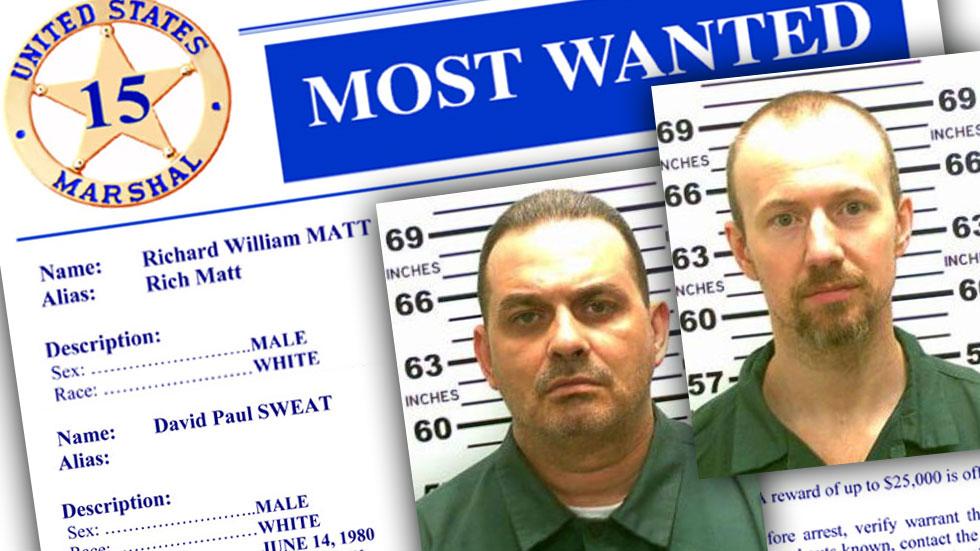 David Sweat & Richard Matt, the two inmates who escaped from an upstate New York prison two weeks ago, made the U.S. Marshals Service's 15 Most Wanted fugitives list Thursday.
The men, who broke out of Dannemora, Clinton Correctional Facility June 6, made a roster reserved for "the worst of the worst," according to Marshals Service Director Stacia Hylton.
Watch the video on RadarOnline.com
The search, which its two-week point Friday, had more than 600 members of law enforcement clearing and searching a total of 160 abandoned buildings, vacation homes and nearly 600 miles of railroad beds and trails. Officials have been as far north as Canada and far south to Mexico, authorities said. Nearby residents have been asked by police to scan any available surveillance camera footage, they might have from the last two weeks, for abnormal activity.
Article continues below advertisement
Clinton Correctional Facility was taken off lockdown Thursday, and convicts there were permitted to eat in communal areas, use the phone and work, while visitors were going to be permitted at the jail as soon as Friday, authorities said.
As RadarOnline.com previously reported, both have killed in the past: Sweat, 34, was sentenced to life with no chance of parole in the 2002 killing of a sheriff's deputy; and Matt, 48, was serving a 25-year-to-life sentence for a 1997 conviction in the kidnapping, killing and dismemberment of his ex-boss.
In a jailbreak that's drawn comparisons to The Shawshank Redemption, authorities said that the duo -- using power tools police say their accused accomplice Joyce Mitchell provided them with -- cut through a steel cell wall, snaked across a catwalk, broke a brick wall, through a steam pipe, and out of a manhole cover outside the maximum-security correctional facility, in their shocking breakout.