Prison Break: 2 Convicts Still At Large Following Massive Manhunt –– While Son Of Seamstress Cops Talked To Says Mother Is Innocent In Shocking Escape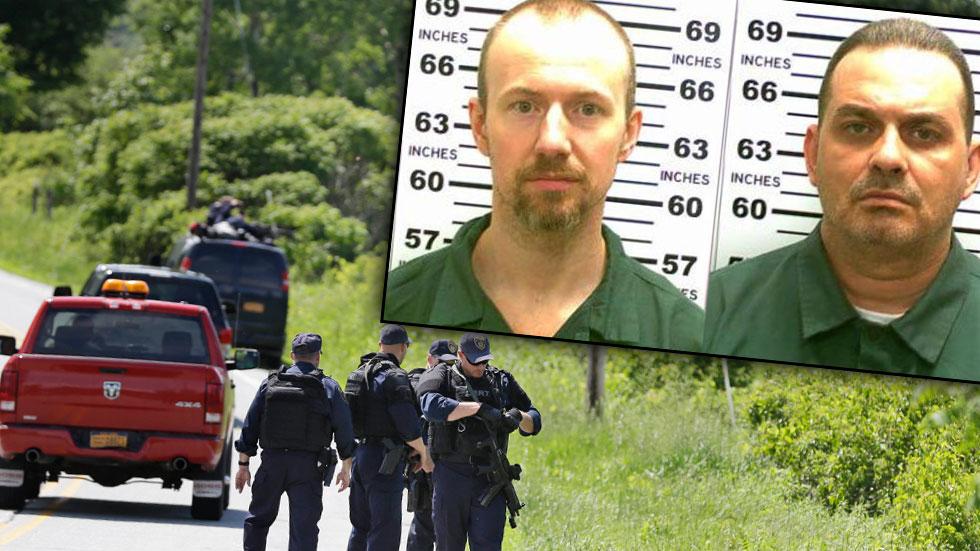 The two convicts who escaped from an upstate New York prison remained at large Wednesday, following a massive manhunt Tuesday in response to reports of two men walking on the road.
More than 400 police officers scoured the town of Willsboro and surrounding areas Tuesday, after locals reported seeing a pair of men walking on the road during a rainstorm on Monday. Armed search parties wearing bulletproof vests ventured through rural areas of woods, fields and swamps during the intense search, which also included probes of every house in the area.
Article continues below advertisement
As RadarOnline.com previously reported, the two escapees -- David Sweat, 34, and Richard Matt, 48 -- broke out of Dannemora's Clinton Correctional Facility Saturday after using power tools to cut through their steel cell wall before snaking across a catwalk, breaking a brick wall, traveling through a steam pipe, and exiting out of a manhole cover outside the maximum-security correctional facility. Adding insult to injury, the two left prison officials a note that read, "Have a nice day."
Both have violent pasts, as Sweat was sentenced to life with no chance of parole in the 2002 killing of a police officer, while Matt was serving a 25-year-to-life sentence for a 1997 conviction in the kidnapping and killing of a man.
In related news, Tobey Mitchell, the son of the married prison employee authorities questioned following the shocking jailbreak, spoke to NBC in defense of his mother Joyce Mitchell -- a 51-year-old supervisor in the facility's tailor shop.
Article continues below advertisement
Watch the video on RadarOnline.com
"She is not the kind of person that's going to risk her life or other people's lives to let these guys escape from prison," Tobey told the network, adding that "when you are put into a situation where your family member is threatened or other family members might be threatened, or at risk, you do a lot of things that you wouldn't do, to just protect your family."
Tobey Mitchell admitted he wasn't sure if his mother might have been manipulated by the pair of convicts," as one source told the NY Post that Joyce Mitchell might have "thought there was something more between'' herself and Richard Matt.
"I don't know," the son told NBC. "I mean, they both are convicted murderers. I mean, you have an inmate that is in prison for life, you really don't have anything to lose."
A separate source told the paper that Joyce Mitchell "really doesn't have much to tell about where they were going or what they were doing after."
Joyce was hospitalized on Saturday citing "a case of nerves," officials said. Tobey said his mother is "a very nervous person" and vowed, "The truth will come out."