Sex Shocker: Accomplice & Escaped Convict Had Sex In Prison Closet MORE THAN 100 TIMES –– 'It Was The Running Joke'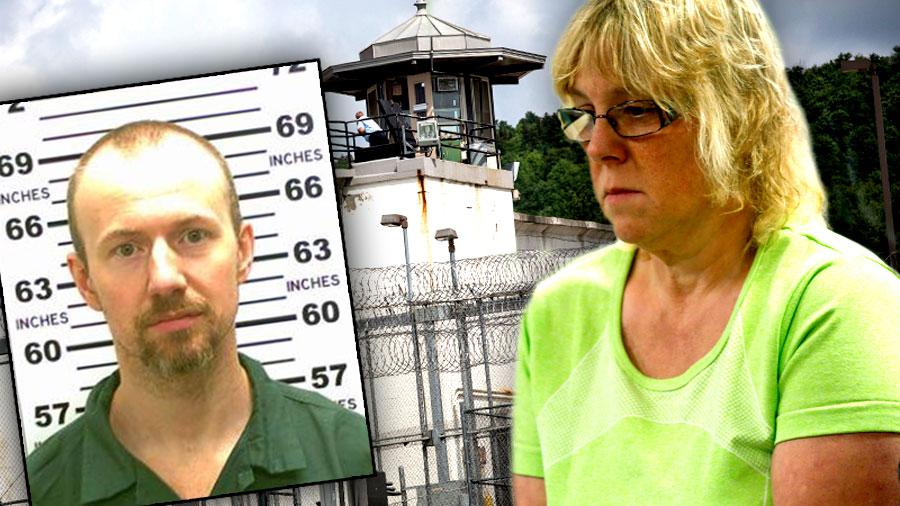 Article continues below advertisement
"He was getting it on with her or she was doing sexual favors for him," Jensen told the paper, adding that the trysts between the two after took place in an 8-foot-by-15-foot stockroom for about 30 minutes each time, always when Mitchell's work shift wrapped up. She tried to cover her inappropriate actions by claiming the two were taking inventory of garments.
"Everyone used to joke with him that he was getting his quiet time with his 'boo,' his girlfriend ... it was like the running joke in the tailor shop."
Jensen, 34, said of the dynamic between the two: "The way I can describe it is in high school, when one of the good-looking jocks looks at the ugly girl or asks her to the prom -- that look on her face -- she was ecstatic."
Mitchell also brought gifts for the convicted 35-year-old killer, Jensen said, which comes on the heels of reports that she brought Sweat (and his partner-in-crime Richard Matt) baked goods; asked prison officials to move then men into neighboring cells; and arranged for tools -- enclosed in ground beef -- to be delivered to the two to aid them in their escape.
Article continues below advertisement
Jensen, who worked with both Mitchell and Sweat in the tailor shop, said that Mitchell promoted Sweat to the head tailor position, and would bring him special lunches like "Subway sandwiches" and "hamburgers.
"The day after Labor Day, she brought in barbecue chicken, hot dogs and hamburgers," Jensen said, noting the techniques she used to cover her tracks.
"She put it inside a Styrofoam tray to make it look like it came from the mess hall."
The revelations come after Mitchell's husband Lyle said on national TV that he believed his wife never cheated on him.
"She swore on her son's life ... that 'I never, ever had sex with them,' " Lyle told on the TODAY show Tuesday.
In related news, the hunt for the men Tuesday extended to more than 1,000 officers searching the woods, and door-to-door, in Bellmont, New York, based on what Gov. Andrew Cuomo called "good evidence" in the form of "DNA data" acquired after the escaped convicts were reportedly spotted running from a hunting cabin.
Charles Guess told the AP that police were working under the assumption that the men were heavily armed, possibly with hunting rifles, while on the lam.
"They are extremely dangerous, they're cunning: Why wouldn't they try to arm themselves immediately upon escape?" he said.