No Shame! Jill & Jessa Duggar's First Public Appearance Since Sex Abuse Scandal Will Be At A Christian Music Festival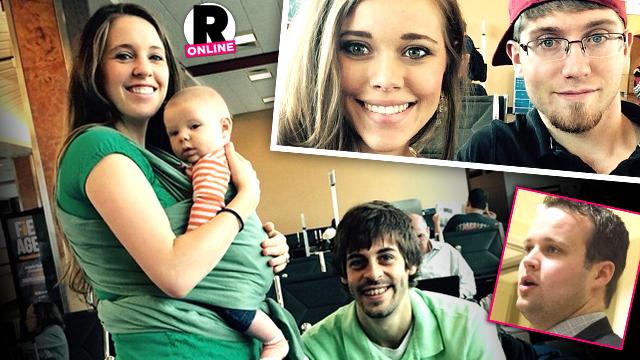 While Josh Duggar is hiding from the public following his outing as a child molester, his sister victims have bravely decided that they are venturing back into the public eye with their first appearance since the news broke.
Jill Duggar, Derick Dillard and baby Israel are flying out to Ohio for a Christian music festival along with pregnant Jessa Duggar and her husband Ben Seewald and RadarOnline.comhas all the details.
Article continues below advertisement
The 19 Kids and Counting stars have been in hiding since the bombshell news of their brother's sordid past was revealed, and while he has quit his high-profile job and canceled his public appearances since the confession, his sisters are stepping out for the first time to attend a faith-based event.
https://instagram.com/p/4HPFvdDfvZ/?taken-by=jessaseewald
The 28th Annual Alive Christian Music Festival in Mineral City, Ohio is hosting the Quiverfull families over the weekend where the married couples will be guest speakers. Tickets to the event are a whopping $140 for an all-access pass that allows guests to attend the concerts, speakers, seminars, swimming, primitive parking and camping. A pass for hot showers will set festival goers back $25 for four.
The Seewalds and Dillards are speaking on Saturday, June 20 at 3:15 pm on the Beach Stage.
While companies abandoned their reality show in droves after Josh's scandal, with General Mills and Crayola being among the ones that said they would not advertise on the show, soft drink giant Pepsi is one of the sponsors of the festival.
As RadarOnline.com previously reported, Jessa and Jill Duggar's interview with Megyn Kelly on Fox News's The Kelly File was riddled with fubs, including the fact that they were actively filming their reality show as their brother was sexually abusing his siblings.
Parents Jim Bob and Michelle Duggar have also remained out of the public eye since their Fox News interview, and a source told RadarOnline.com that there were "no plans" for the sisters to have their own spinoff show on TLC.
What do you think about their music festival appearance? Sound off in comments below.