Another Near Tragedy? How Local Mall Employees Escaped Charleston Killer Dylann Storm Roof's Wrath: Read Creepy Police Reports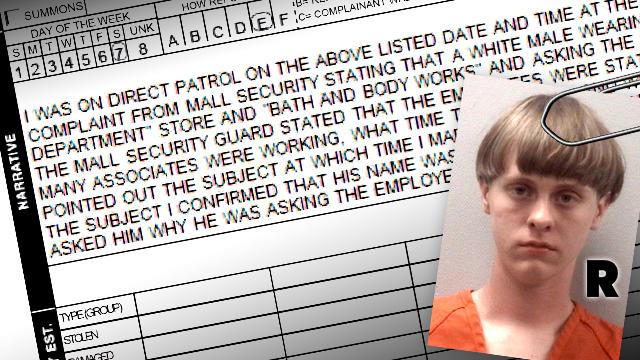 Could a South Carolina mall have narrowly escaped a horrific tragedy?
Just four months before Dylann Storm Roof allegedly shot and killed nine innocent people, the suspect was arrested for acting suspiciously at the Columbiana Centre in his native Columbia, RadarOnline.com can exclusively report.
According to police documents obtained by RadarOnline.com, the 21-year-old stopped in the shopping mecca's Shoe Department and Bath & Body Works stores on the evening of February 28, 2015 and began asking "out of the ordinary questions."
Article continues below advertisement
"Employees were stating that the subject was asking them how many associates were working, what time they closed, and what time they leave," the report reads.
Mall security called police, who approached Roof.
"I asked him why he was asking the employees of the businesses those questions. Mr. Dylann then began speaking very nervously," the responding officer reported. "I…observed that Mr. Dylann was becoming more nervous acting and taking more time to think of answers to my questions."
After a consensual search, the cop found an unlabeled pill bottle containing orange "square strips."
Roof claimed they were suboxone, a drug often used to treat heroin addiction.
As RadarOnline.com exclusively reported, he was arrested later that day on felony charges for cocaine, meth and LSD possession.
Two months later, he was caught trespassing in the mall's parking lot after he had been banned from the area due to the previous arrest.
"The suspect was transported to Lexington County Detention Center," documents state.
Less than a day after killing nine worshipers in a historically black Charleston church, Roof was taken into custody
in North Carolina.