Sick! Alleged Church Shooter Dylan Roof Grins In Courthouse Video As He Is Extradited Back To South Carolina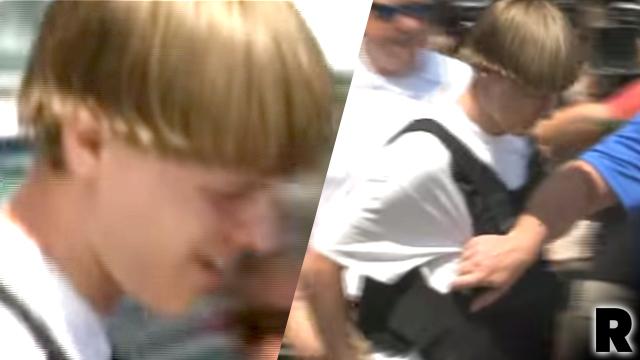 Dylann Storm Roof, the man accused of shooting nine people in a church in Charleston, South Carolina was seen outside a North Carolina courthouse wearing a bullet proof vest and smiling as he was loaded into a police car just hours after his arrest.
In the video, the alleged killer is seen for the first time since being cuffed following the massacre at Emanuel AME Church on Wednesday, June 17, where a state senator, pastors and church goers were gunned down.
Article continues below advertisement
Roof, 21, waived his extradition rights in a Cleveland County, NC, courthouse and according to CNN is "being flown back to South Carolina" to face trial.
Roof did not answer questions shouted at him by reporters but smiled the entire time he is marched into a patrol car, wearing the bullet-proof vest and a white t-shirt.
According to survivors, Roof told his unsuspecting victims he was killing them because, " You rape our women and you're taking over our county, and you have to go."
"I've had to make statements like this too many times," President Obama said about the incident. "Innocent people were killed in part because someone who wanted to inflict harm had no trouble getting their hands on a gun. At some point, we as a country will have to reckon with the fact that this type of mass violence does not happen in other advanced countries."
As RadarOnline.com previously reported, Roof was arrested for possession of cocaine, meth and LSD in February.