Sorry, Charlie! Denise Richards Advises Ignoring Negative People After Charlie's Shocking Rant –– Mentions How Daughters Were 'Disappointed' After Father's Day Dust-Up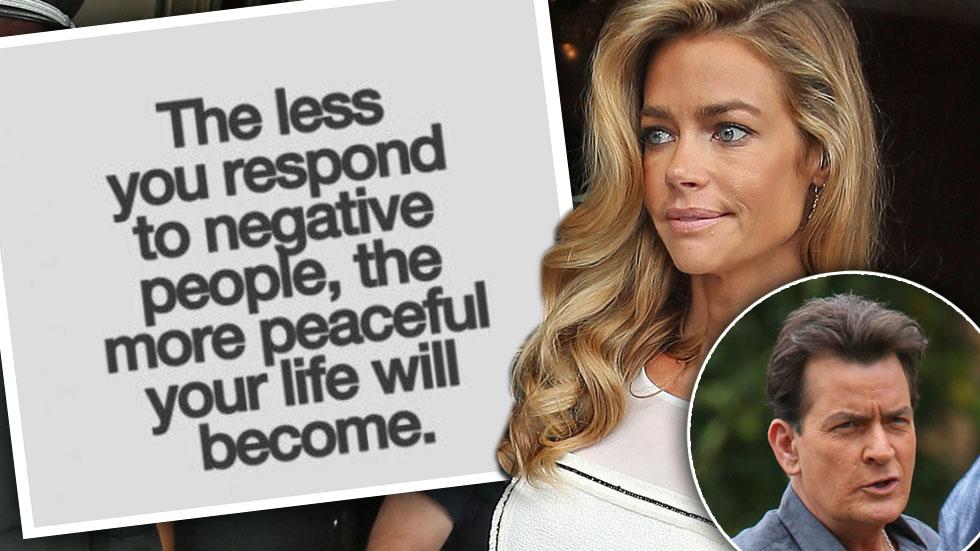 Denise Richards took the high road in response to Charlie Sheen's maniacal Father's Day meltdown, advising her followers to avoid negative people.
After the Major League star's filthy "open letter to the media" -- in which he called Richards a "washed up piglet, shake down piece of sh*t doosh phace" and the "worst mom alive," the Wild Things beauty chose to kill Charlie with kindness.
She tweeted how "disappointed" their daughters Sam and Lola were after missing Father's Day with their dad, who absentmindedly waited until the last minute to invite them on the getaway -- a request she turned down. Richards, 44, wrote: "Happy Dad's Day! @charliesheen have a great trip in Mexico! Kids were disappointed u weren't here for it- Hey we'll celebrate when u r back!"
Article continues below advertisement
But it didn't end there: the Drop Dead Gorgeous star later re-tweeted a piece of advice from Leeza Gibbons -- to ignore negative people so your life is peaceful -- with the endorsement, "Yup ain't that the truth."
As RadarOnline.com previously reported, insiders said the former Two and A Half Men star, 49, "didn't know it was Father's Day until Sunday, and" only then "decided he wanted to take Sam and Lola to Mexico," leading to the meltdown.
Another source of stress in their co-parenting situation, the source said, rose out of Denise's decision to move from Sheen's native Beverly Hills to "Pacific Palisades, Santa Monica, or Malibu because the girls will be going to a new school in that area."