Exclusive
Another Lawsuit! Caitlyn Jenner Sued By SECOND Victim Of Fatal Car Crash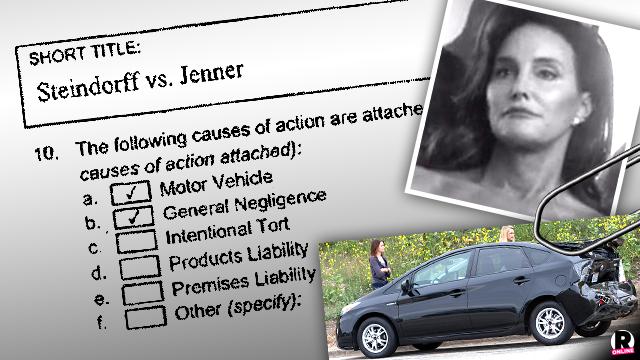 More legal trouble for Caitlyn Jenner! RadarOnline.com has exclusively learned that the reality star is facing a second lawsuit in connection with her fatal car crash earlier this year.
The driver of the Prius that was rear-ended by the reality star's Escalade in Malibu on February 7 filed the lawsuit, obtained by RadarOnline.com, today in Los Angeles.
Jessica Steindorff, the Plaintiff, named "Bruce Jenner aka, Caitlyn Jenner" as the defendant.
Article continues below advertisement
According to the lawsuit, Jenner "negligently, carelessly, recklessly, and wantonly drove, managed, maintained, controlled, operated and entrusted their motor vehicle so as to legally cause the plaintiff to be injured," and to cause "damages" to her vehicle.
The documents also state Steindorff suffered wage loss, loss of property, hospital and medical expenses, causing at least $25,000 in damages.
This is the second lawsuit for Jenner in connection with the crash. The step-children of Kimberly Howe, tragically killed in the car accident, filed a wrongful death lawsuit against Jenner back in May.
Jenner has yet to face formal charges for the crash, but as RadarOnline.com reported, she is massively underinsured: Her current plan only covers up to $250,000.
Story developing.