Pervert! Nicki Minaj Takes Swipe At Tyga's Relationship With Underage Kylie Jenner In New 'Feeling Myself' Video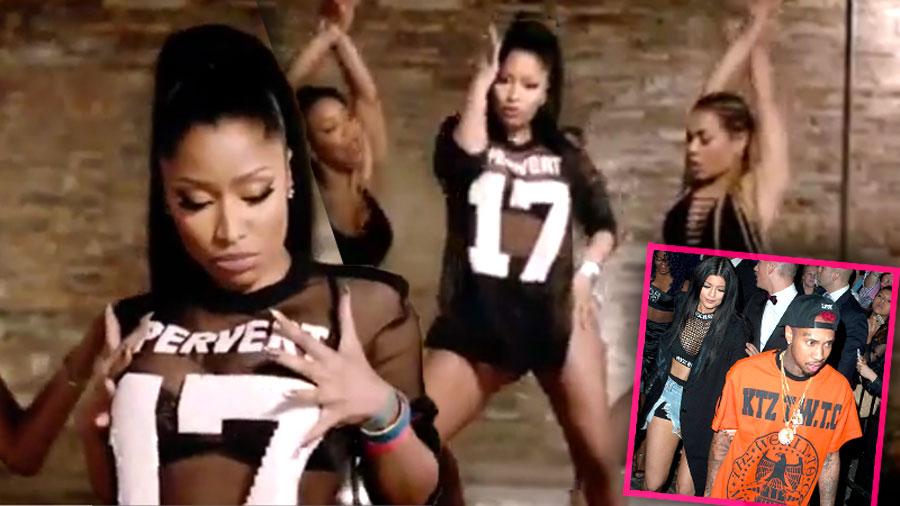 Oh, no she didn't! Nicki Minaj has taken a major dig at her onetime protégé, Tyga, in her new video, featuring Beyonce.
In a scene from "Feeling Myself," Minaj sports a jersey with the word "Pervert" emblazoned above the number 17, a thinly veiled reference to the age of 25-year-old Tyga's underage girlfriend, Kylie Jenner.
Minaj recently opened up about the origins of her ongoing feud with Tyga in an interview with BBC Radio 1.
Article continues below advertisement
According to the vengeful rapper, she believed Tyga leaked her song "Truffle Butter" with King Gold Chains that she meant to include on her album.
"I thought that was a little bit disrespectful, because I had always shown him love," she revealed. "I had always done stuff with him, took him on tour with me and I thought it was disrespectful because I am the Queen of Young Money."
Minaj also said Tyga apologized to her via text messages and that "it's all good" between the two, but her new video clearly suggests otherwise.
Watch Nicki and Beyonces new video for "Feeling Myself" here: