Secret Heartbreak: NeNe Leakes Reveals Why She Stormed Out Of Reunion — Inside Her Meltdown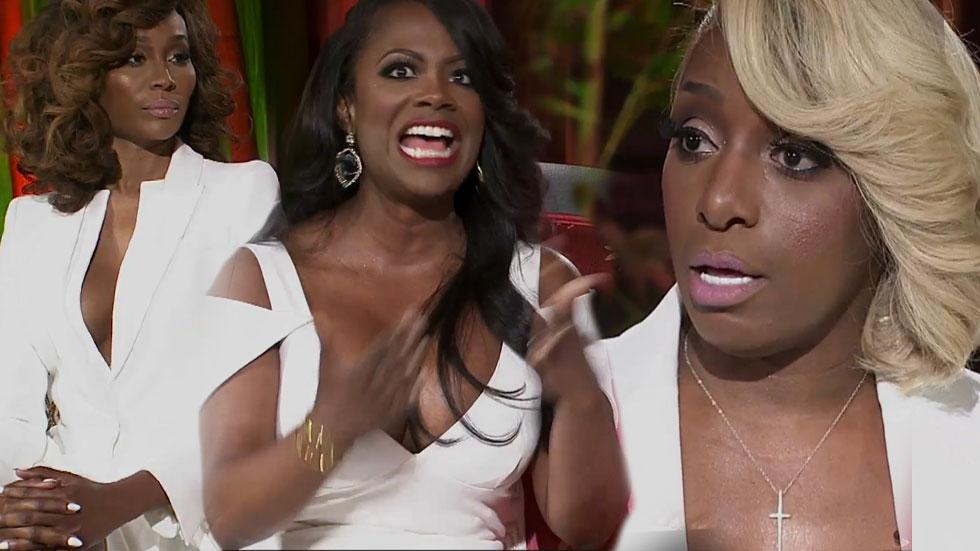 NeNe Leakes loves to slam her co-stars. But she showed her vulnerable side when she left The Real Housewives of Atlanta reunion in tears, and now she and her husband Gregg Leakes are opening up about how she really felt that fateful day.
NeNe's massive meltdown was triggered by memories of her mother abandoning her as a child, and after the clip aired, she used her website NeNeLeakes.com to thank her friends and throw shade at her enemies.
Article continues below advertisement
"Any friend that turned into an enemy has been hating since day one," was the first cryptic message she posted.
"Honestly I do not like being vulnerable in front of people who do not like me!" she admitted. "My exterior can be tough to some but my heart is gold! I have gotten soooo many text messages about this scene tonight. (I didn't watch) my phone has literally caught on fire! I'm happy to know that I helped or inspired anyone that watch #RHOA #strongwoman," she wrote.
NeNe has fought non-stop with Claudia Jordan this season, but instead of focusing on the negative, she wrote about the women who supported her during the Bravo filming.
"So Thankful for Porsha & Phaedra! They didn't judge me! They calmed me and gave me strength that day! Thank you @porsha4real @phaedraparks @cynthiabailey10 gave me a big ole hug."
Meanwhile, her husband, Gregg Leakes, told Andy Cohen the heartbreaking secret behind her meltdown.
Article continues below advertisement
"Her mom had five children very, very young," Gregg told Cohen. "She couldn't take care of five children…so she sent NeNe and her brother to Athens to be raised by an aunt…she always wondered why she had to be the one to be sent away."
And NeNe praised her husband, writing about her gratitude for his support.
"I owe so much to this man! He loves me unconditionally and trust me the feeling is mutual #unbreakable #hegetsme!" she wrote.
Check out what the Housewives are saying on Twitter right now.