Exclusive
Prison Officials Save OJ Simpson From Hulking Skinhead After Vicious Attack –– Aryan Nation Member Transferred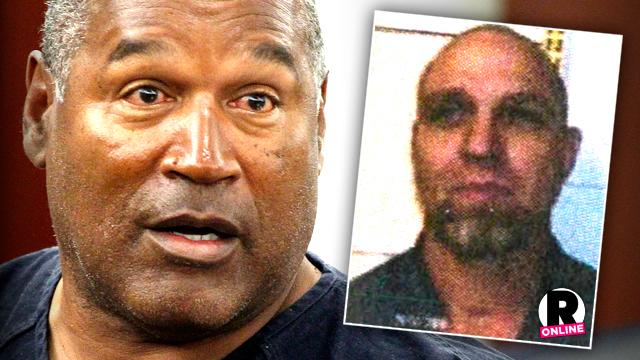 Scaredy cat OJ Simpson is sleeping a bit easier now that Aryan nation member Travis Waugh has been transferred out of the Lovelock Correctional Center in Nevada just days after he gave the 67-year old disgraced football star a prison whooping that left him in fear for his life, RadarOnline.com can exclusively reveal!
The trouble started when Simpson jumped ahead in the line of prisoners receiving their medication and Waugh, a convicted sex offender and white supremacist, took exception to his diva-like attitude and lashed out at him.
Article continues below advertisement
Simpson then spit on Waugh, who became incensed slamming the disgraced football star up against the wall. Prison guards quickly broke up the fight, cuffing Waugh and ordering Simpson back to his cell. All the while Waugh, 51, was telling Simpson he was a dead man!
"Since the fight, OJ had been so frightened of running into the man that he avoided the prison cafeteria all together, eating meals in his prison cell…and when he did leave his cell, he was escorted by his cellmate 'Smoke', a prison insider told Radar.
The 6-foot, 250-pound tattooed skinhead Waugh is serving time for an "attempted sexual assault of a mentally challenged minor" conviction in 2005.
Waugh is scheduled for a parole hearing soon. His mother, Juanita Antonio said, "I hope the situation with OJ Simpson won't hurt his chances for parole. Travis has paid his debt to society. He is a good person who made an awful mistake."
"Either way, it doesn't look like he is going to be coming back to Lovelock whether or not he makes parole and OJ is more than OK with that," noted the insider. "OJ never wants to see him again."
Waugh is now behind bars at the Warm Springs Correctional Center in Carson City, NV 120 miles away.