I Want My Money! Gretchen Rossi Asks Judge To Make Her Ex-Lover Pay Her $500K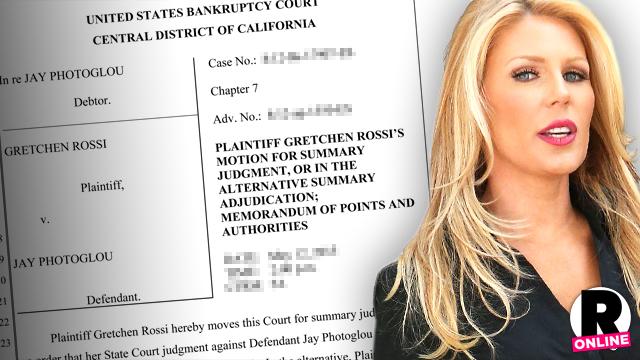 Former Real Housewives of Orange County star Gretchen Rossi, is asking a bankruptcy judge to make her ex pay up! The reality blonde wants the court to enforce a $500,000 judgment awarded to her after she sued her ex-boyfriend, Jay Photoglou. ​
Rossi and Photoglou had filed dueling lawsuits against each other, claiming defamation, libel, and invasion of privacy. A jury awarded Rossi $500,000 in legal fees, and $24,000 in punitive damages.
Article continues below advertisement
Photoglou filed for bankruptcy, and is now attempting to have the judgment included as part of the proceedings, which would wipe out the outstanding debt.
But Rossi has formally asked the judge to not allow the , ensuring she'll still get paid.
According to documents obtained by RadarOnline.com, Rossi's attorneys state,"Rossi respectfully requests that this Court grant her motion for summary judgment and determine that the 2012 Judgment against Photoglou and in favor of Rossi is non-dischargeable. In the alternative, Plaintiff seeks summary adjudication of any or all of the first through eighth affirmative defenses in favor of Plaintiff and against Photoglou."
The matter remains under submission to the judge.