South Carolina Police Shooter Had Checkered Past With Excessive Force Complaint: Plus 5 New Developments In Shooting Of Unarmed Black Man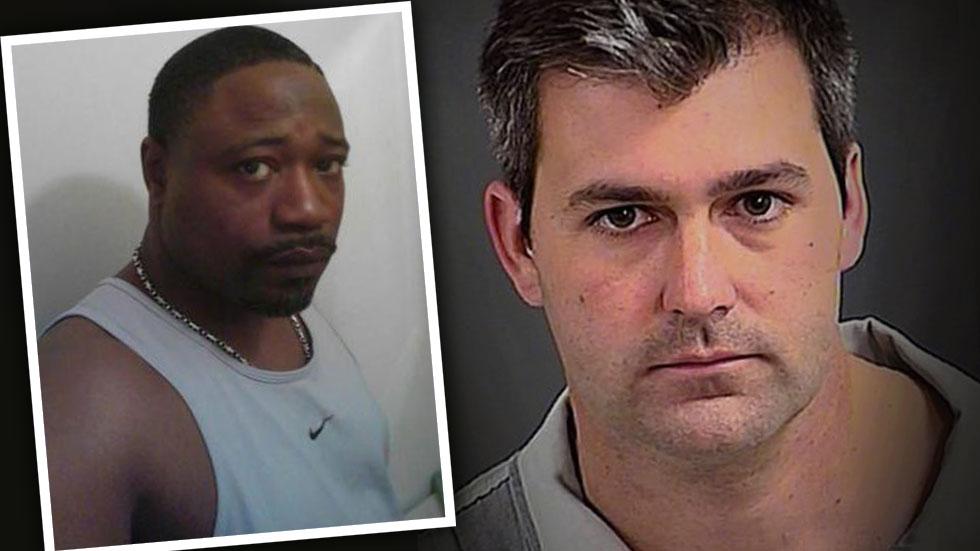 Past problems with the white police officer accused of murder -- after shooting an unarmed black motorist from behind -- leads Thursday's updates in the ongoing story.
Key Facts
Ex-North Charleston, South Carolina police officer Michael Thomas Slager is accused of murder after a cell phone video surfaced showing him shooting an unarmed black man named Walter L. Scott, who was fleeing the scene Saturday following a traffic stop over a broken brake light. The 33-year-old Slager, who's been on the force for five years, appeared in court Tuesday and was denied bond. Scott, a 50-year-old father-of-four, could have been running away from the scene because he feared being taken to jail due to unpaid child support, his father and family lawyer L. Chris Stewart said, adding that the late man had never been convicted of any violent crimes. Slager was fired Wednesday, officials announced.
Article continues below advertisement
Watch the video of the shooting on RadarOnline.com (WARNING: Content is graphic, upsetting, contains profanity)
Excessive Force
Slager was the subject of an excessive force complaint involving an unarmed black man two years ago, the AP reported Thursday. North Charleston native Mario Givens told the AP that Slager was banging at his door in the middle of the night, and told him he wanted to enter the home without giving a reason why. Slager then pushed in the door and told Givens he'd tase him unless he exited the home. Givens recalled, "I didn't want that to happen to me, so I raised my arms over my head, and when I did, he tased me in my stomach anyway." Givens said that a second policeman then helped Slager drag him out of the home, handcuff him, and take him to police headquarters. Givens was released with no charge after officers first said he resisted arrest. Givens was subsequently exonerated in an internal investigation, officials said, after facts surfaced that the cops had mistaken Givens for his brother, who was accused of breaking and entering his ex-girlfriend's home. "They never told me how they reached the conclusion -- never," Givens said of the officer's clearing. "They never contacted anyone from that night; no one from the neighborhood." Givens said that Scott's death "could have been prevented if they had just listened to me and investigated what happened that night, this man might be alive today." Spencer Pryor, a spokesman for the North Charleston Police Dept., said that authorities would take a second look at the case to investigate if it was proper to clear him in the incident.
Watch the video on RadarOnline.com
Key Witness
A man named Feidin Santana has emerged as the person who shot the video of the shooting. Santana said he was going to work at his job as a barber when he witnessed the events unfolding. He said he came forward after he noticed the official police account of the incident did not match the events of his recording. "I just put myself in the position of the family," Santana told MSNBC, admitting that he'd considered leaving the state due to security concerns. Scott family attorney Stewart said, "What if there was no video? What if there was no witness, or hero as I call him, to come forward? We didn't know he existed. He came out the blue because they wanted to do the right thing. He came forward to the family because what he witnessed he just knew was wrong."
Article continues below advertisement
Watch the video on RadarOnline.com
White House Reacts
The clip of the shooting was "awfully hard to watch," White House spokesman Josh Earnest said Wednesday, adding that he hadn't directly spoken with President Barack Obama about the incident. Earnest said, "I think even the investigators themselves have acknowledged that when this video evidence was presented, that it changed the way that they were looking at this case." Earnest said that this incident, and others, justify the idea that outfitting police officers with body cameras will reduce violent incidents between cops and citizens.
Quick Reform
More than 250 body cameras were ordered for all local police officers, North Charleston Mayor Keith Summey said Wednesday, adding that attorneys will write official policy regarding use of the recording devices. No timetable was given for how long it will take for the officers to be outfitted with the cameras, Pryor said.