Natalie Wood's Secret Diaries Exposed! Read Shocking Confessions She Penned Before Mysterious Death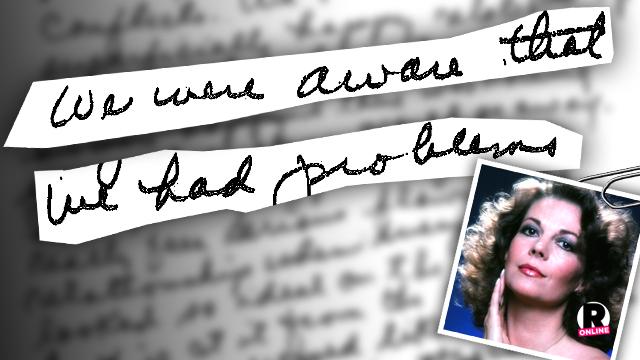 "We maintained a superficially happy relationship and hoped that by pretending there was nothing wrong, the problems would go away."
Shortly before her tragic death, Natalie Wood wrote those haunting words in her secret diary — a chilling 118-page document kept hidden away under lock and key until The National ENQUIRER obtained it exclusively.
The pages are Wood's final testament from beyond the grave — a journal filled with heart-wrenching detail about the living hell she endured during her marriage to Hollywood actor Robert Wagner.
Article continues below advertisement
READ NATALIE'S SECRET DIARY ENTRIES
In her own dramatic words, the West Side Story star detailed the terrible agony she experienced during their 14 years of marriage. She also revealed how degraded she felt as she endured the pain and humiliation of a cruel betrayal.
Suggesting they were "naïve" to think they could live "happily ever after" with all their woes, a tortured Wood referenced a bombshell disclosure that she once caught Wagner in bed having an affair!
In her diary, she described the sickening discovery as a "betrayal," adding: "I was seething underneath!"
In her journal, Wood divulged: "It was more than a final straw. It was reality crushing the fragile web of romantic fantasies with sledgehammer force."
After the shock of his fling, she wrote: "When we were alone we seemed less together. We were aware that we had problems but tried to avoid the real conflicts, and as R.J. and I struggled to make our marriage work, the problems continued to pile up."
Article continues below advertisement
"Looking at it from the outside we must've seemed like the American dream, we were both attractive and successful so what could possibly be wrong?" she penned in another entry.
Before divorcing Wagner in 1962, Wood also wrote: "I tried for a while to escape the pain of reality."
The ENQUIRER also learned the desperate star turned to pills and booze, and jumped into a disastrous affair with Warren Beatty that led her to the brink several times.
Wood wrote: "I felt bogged down in a self-destructive relationship, but I could not bring myself to end the affair and the loneliness."
"I began to feel that I was the sum totaling all the parts I had played. I had no real identity. I suddenly knew that if I was going to survive I had to find out."
Wood eventually reunited with Wagner, and the pair remarried in 1972. But in a twist that has become the most enduring Hollywood mystery of all time, the star died under puzzling circumstances after a wild night with Wagner and co-star Christopher Walken.