Secret Diaries Exposed! Natalie Wood Wrote Explosive Affair With Warren Beatty Was 'Five-Alarm Fire'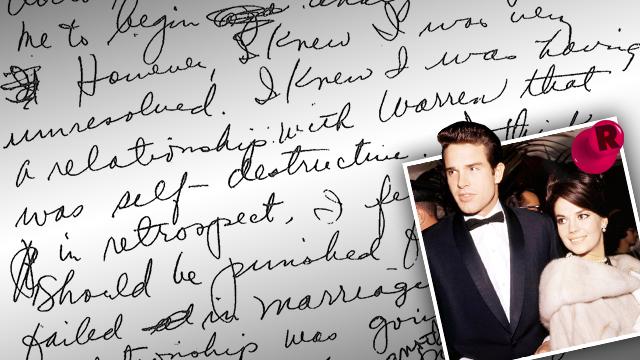 Natalie Wood seemed to have it all — beauty, wealth and famous lovers. But beneath the glamor was an ugly secret: She suffered through a tumultuous affair, packed with anguish, despair and fear that drove her to the brink.
In excerpts from her personal diary, painful details of the tragic Hollywood beauty's passionate romance with Warren Beatty are revealed for the first time.
"Neither Warren nor I was ready for a permanent relationship," Wood confessed in the emotional writings uncovered by The National ENQUIRER.
Article continues below advertisement
"Although our romance lasted approximately two years, our affair was a 'collision' — a combination three-ring circus and five-alarm fire."
The legendary lady killer met Wood when they played young lovers in the Oscar-winning 1961 drama, Splendor in the Grass. At the time, the first of Wood's two marriages to actor Robert Wagner was ending.
Former child star Wood was 23, lover boy Beatty was 24 — and their hookup was a recipe for disaster!
s
Divulged Wood: "Both of us were not only immature but moody. I had gone from one extreme to the other."
"After my divorce," she added, "I was looking for the Rock of Gibraltar. Instead I discovered Mount Vesuvius, a live volcano with eruptions each day. And I contributed my share of fireworks, too!"
The tumultuous affair eventually pushed Wood to the brink, according to an unauthorized 2002 Beatty biography titled The Sexiest Man Alive.
In the bombshell book, author Ellis Amburn claimed that Beatty humiliated Wood when he "cornered her sister Lana in a hotel and tried to seduce her — even though she was just 16."
The incident sparked a bitter argument, and without Beatty present, Wood "tried to commit suicide by overdosing on barbiturates," according to Amburn. A friend rushed Wood to a hospital, where her stomach was pumped.
Noted Wood in her diary: "Finally I felt I had the strength to say farewell to Warren."