Natalie Wood's Sister 'Pleading' With Christopher Walken To Tell 'What Really Happened' Night Her Sister Drowned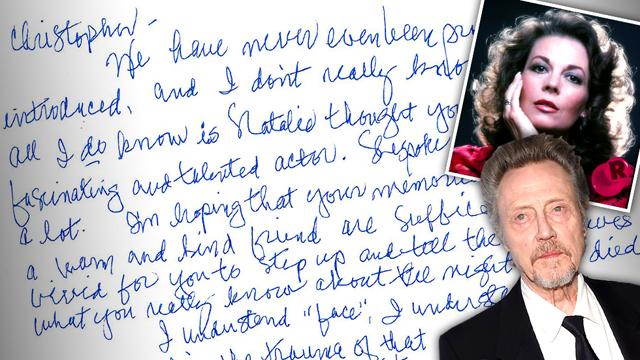 Heartbroken Lana Wood is pleading to Christopher Walken to expose the "hateful lies" and reveal the truth about what really happened the night Natalie Wood died!
RadarOnline.com has exclusively obtained a letter that Natalie's distraught sister addressed to the Oscar-winning actor — whose testimony could solve the mystery of the screen legend's bizarre death once and for all.
Walken, now 72, appeared with Natalie in the sci-fi film Brainstorm and was partying with his co-star and her husband, Robert Wagner, aboard the yacht "Splendour" on Nov. 28, 1981 — the night before Natalie, 43, was found drowned in the waters off Catalina Island, Calif. And now Lana is appealing to Walken to tell what he knows.
Article continues below advertisement
"I'm pleading with you to be the brave forthright person Natalie found you to be … and tell what really happened," Lana wrote.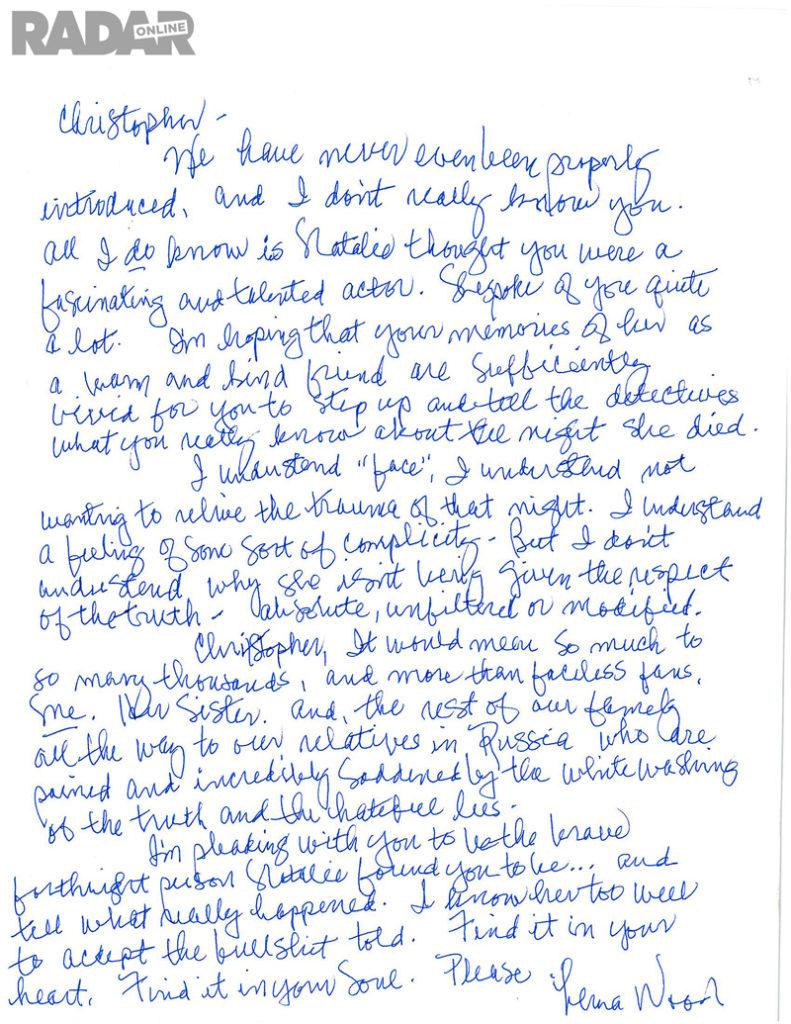 MORE ON:
Christopher Walken
But what "really happened" could force Walken to address the bombshell claim that Natalie had attempted to flee the yacht after catching him in a gay clinch with her husband.
Pennsylvania-based interior designer Robin Butillo told The National ENQUIRER how Walken admitted to a close friend that he was in bed with Wagner in the hours before Natalie went overboard.
As The ENQUIRER revealed in a bombshell investigation, Hollywood homicide detectives recently recreated the crime scene on the "Splendour" — and found chilling evidence pointing to Wagner as a person of interest!
The investigators flew to Hawaii to address new accusations from the captain, Dennis Davern, whose description of that night specifically implicated Wagner in Wood's death.
Davern claimed to have witnessed a violent struggle between Natalie and her husband that night. Her bruised body recovered from the water the next morning.
Wagner, 85, has refused to cooperate with the reopened investigation. Walken hired an attorney, and has reportedly met with detectives at least twice in their new probe.
For more on this story, pick up the latest issue of The National ENQUIRER, on newsstands now.