Exclusive
New Feud! Diane Sawyer Demanding Kris Jenner Issue Apology For Claiming She Wasn't Asked For Comment About Bruce Interview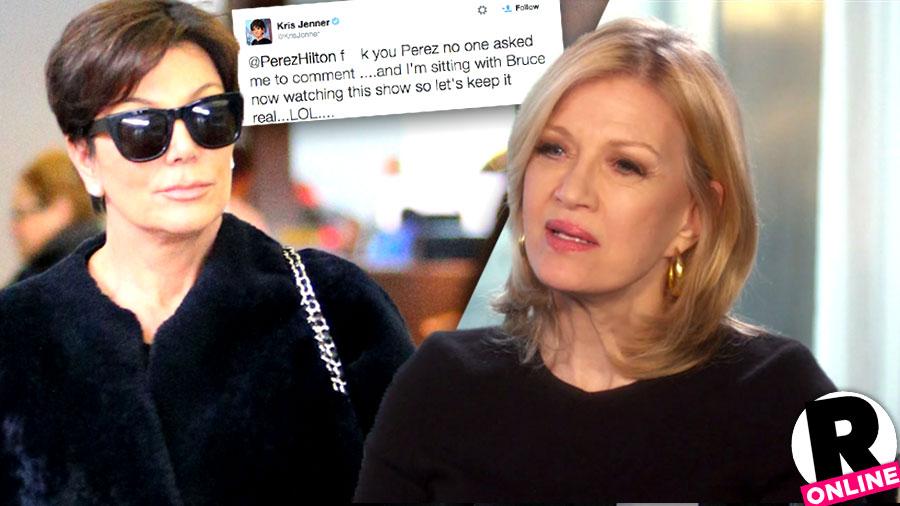 Kris Jenner's scathing Twitter words didn't just rub Perez Hilton the wrong way.
When the famous momager publicly told the blogger that "no one" asked her to comment on ex-husband Bruce Jenner's explosive TV revelation that he's transitioning into a woman, she irked Diane Sawyer in the process, Radaronline.com has learned exclusively.
The award-winning journalist, who scored the historic sit-down with the Olympic hero on Friday night, is "furious" at Kris for claiming that ABC failed to reach out to her for a response.
Article continues below advertisement
"Kris was sent an early copy of the interview and had more than enough time to issue a comment," a network source tells Radar.
"Diane is angry that Kris attempted to discredit her. She's a seasoned journalist and for a reality star to infer she's lying is insulting."
On Friday night, Hilton called out Kris for not providing ABC with a statement, unlike Bruce's other supportive exes, Linda Thompson and Chrystie Scott.
The angry Kardashian matriarch blasted the blogger, even spewing the f-word.
Not only did Kris lie, she took attention away from Bruce's big night, the source explains.
"Bruce's story was supposed to be all about him making a difference, and Kris cast a shadow over the message. It's uncalled for."
After the online uproar, Kris later wrote a more supportive message to her fans, referring to her ex as a "hero."
But the legendary news anchor isn't satisfied.
"Now she's started a war," the source says, "and Diane wants Kris to issue an apology."
Watch: Diane Sawyer is reportedly "furious" at Kris Jenner