Kim Kardashian's Ex Kris Humphries Apologizes For Insensitive Comments Following Bruce Jenner Interview — 'I Was Too Vague'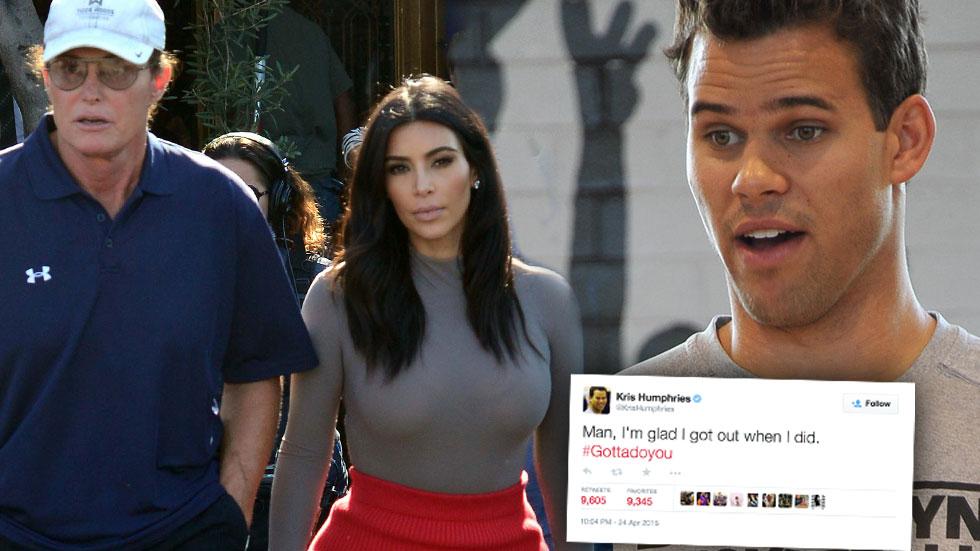 Kim Kardashian's ex-husband, Kris Humphries, got an unpleasant reminder of what life was like caught up in the reality family's drama when he made the bad decision to tweet about Bruce Jenner's ABC interview with Diane Sawyer.
"Man, I'm glad I got out when I did. #Gottadoyou," he wrote his almost 900,000 followers.
Humphries message was instantly met with mostly hostile responses from fans who lambasted him for his insensitivity.
Article continues below advertisement
In a major example of damage control, he eventually tried to explain that he is, in fact, fully team Bruce.
"I have and always will support Bruce hence #Gottadoyou," he explained. "Now recognize I was too vague and sincerely apologize for the way this came across."
And just in case his apology wasn't enough, Humphries tweeted: #fullysupportbruce in a follow-up tweet.
But it seems Humphries' explanation got him into even more trouble.
"Mmmmm...not buying it," commented one follower.
"There was no reason 2 comment in the 1st place..u didnt think u'd get backlash from this?" asked another. "Come on, aren't u smarter than that?"
While still another of his twitter followers slammed Humphries, asking: "You're glad you got out when you did??? YOU GOT LEFT BRO. THEY LEFT YOU."
"Think before you tweet... Makes everyone understand why Kim left you for Kanye," sniped someone else in response.
Do you think Humphries is on Bruce's side, or is he just trying to cover himself? Sound off in the comments below.