Exclusive
Can't Take The Heat! Kim Richards Storms Out Of Dr. Phil 'Intervention' In New Clip — Watch Her Meltdown!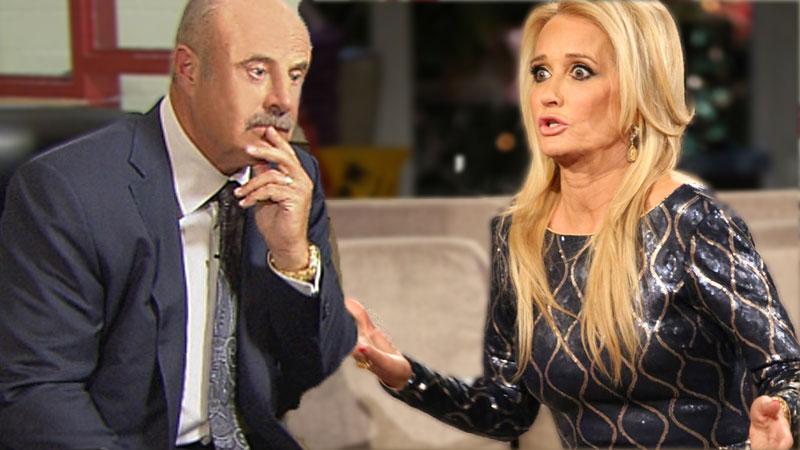 In a shocking new preview of Dr. Phil's interview with Real Housewives of Beverly Hills star Kim Richards, the troubled 50-year-old storms out after learning that the interview has turned into an intervention.
Following her arrest on April 19 for kicking a cop while intoxicated at the Beverly Hills Polo Lounge, Richards sat down with Dr. Phil to discuss the situation.
In the newest clip of Tuesday's upcoming episode, she tells him, "I am beating myself up over this. I poured a drink of vodka and thought 'Oh my God. What have I done?'
Article continues below advertisement
PHOTOS: Kim Richards' 16 Wildest Secrets & Scandals
After her not-so-surprising admission, Dr. Phil asks, "Are you living a lie by telling everybody that you've been sober three years?'
After that, Richards, who is now from RHOBH over the incident, is seen in a room with Dr. Phil and three of her children.
Dr. Phil leans into Richards and says, "You are drunk in a bar, fighting with a cop. That is not good mothering."
Richards then asks, "Is this an intervention?" and gets up to walk off the set, saying, "I am sorry. I can't…"
Click below to see the entire shocking clip and tune in to Dr. Phil on Tuesday to see the entire debacle unfold!
Do you think that Kim Richards family was wrong for staging the intervention? Let us know in the comments below.