Exclusive
Time To Quit? Kim Richards Won't Get Sober If She Stays On 'RHOBH' –– Mom Of Murdered Ex-Fiancé Tells All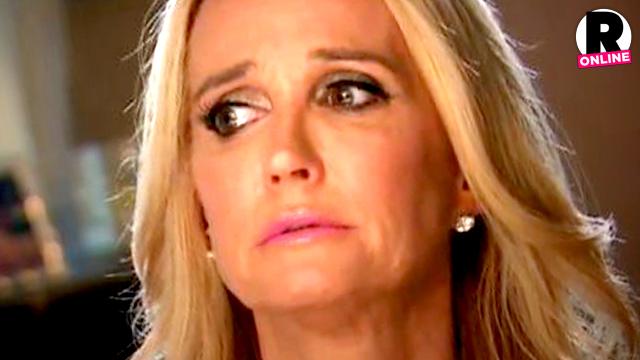 Kim Richards said in her new interview with Dr. Phil that she would quit The Real Housewives of Beverly Hills if she felt it was preventing her from staying sober. Now, the mother of her long-dead fiancé is speaking out about why that might be the right decision.
"There are so many wonderful, important things in life. The show has so many negative aspects and lots of pressure and it certainly hasn't helped her," Jan Collett told RadarOnline.com.
Article continues below advertisement
More than 20 years ago, the budding young actress, who starred in Disney's popular film Escape to Witch Mountain, was engaged to Jan's son, John Collett, who was tragically murdered in 1991 just before they got married.
"He would have thought it was bulls**t," Jan said of the Housewives series. "John never would have taken part in it."
Jan says her son's life as a commodities broker was so much different than Kim's life in the spotlight. But he tried to offer Kim balance.
"I talked to John about the kind of people surrounding her and he never tried to take her away from anything, but her life with him would have taken a different passage," she said.
"John loved her and would have picked her up and said, 'We're going,' and gotten her away from people who were going to influence her."
Jan, who occasionally watches RHOBH, has seen Kim self-destruct over the years since she lost John.
Article continues below advertisement
"She's been going through a breakdown for years," claimed Jan, who remembers Kim's determination to stay sober along with John, who had also been in recovery for eight years. "It hurts my heart to watch Kim be a part of that.
"She's not in a good place and she's very thin and she looks in a depressive state."
Kim often confided in her would-be mother-in-law about how much she struggled with having fame and living a normal life.
"She doesn't like all the s**t around her, notoriety, people pushing her. She wasn't afraid to talk to me about it," recalled Jan.
"She said 'Sometimes I wish I could go back and be little again and do it over.' She had many regrets because she allowed herself not to be herself."
Jan, who has been sober for 29 years herself, had some tough love for the woman who she always considered a daughter.
"When she's drinking, she allows people to push her and then you're filled with anger," said Jan.
"She could be a part of that show and do a different path," she said.
"She's just going to have to get sober, and the life she's living now, I don't know if she could do it."
"It's got to be an inside job and she has to make a decision and it's very difficult to do when you're drunk or stoned."
But Jan knows Kim will prevail.
"She has such a good heart. She had the sweetest spirit that I had the pleasure to be around," she said. "I think she's an amazing young woman and there is so much going for her. She is a genuinely good-hearted person."