Exclusive
Secret Pain: How The Brutal Murder Of Kim Richards' One True Love Broke Her Heart — 'She'll Never Forget Him'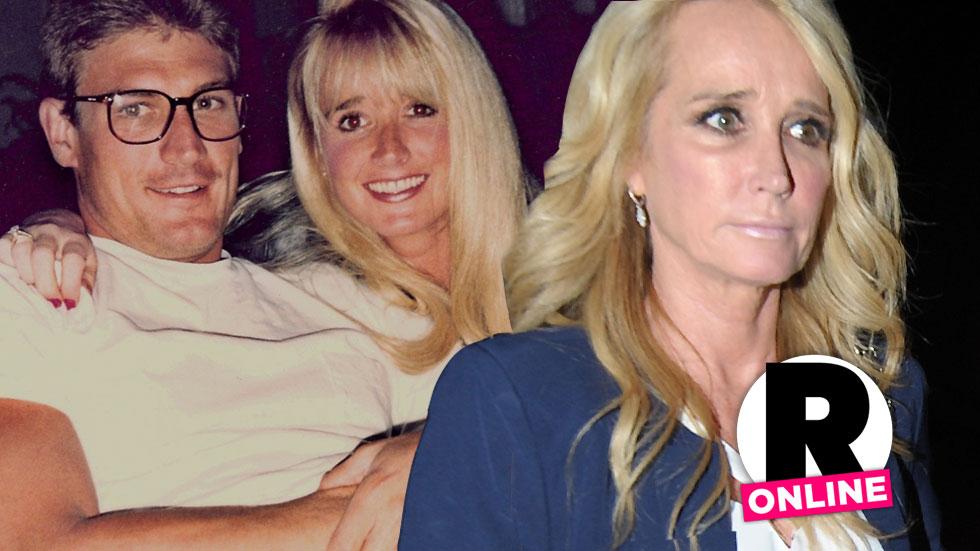 Twenty years ago, Kim Richards had it all: fame, money, a handsome man by her side — and sobriety. Now, her downward spiral into alcoholism has been viewed by millions on The Real Housewives of Beverly Hills and been splashed across the headlines after her arrest for public intoxication. What caused her relapse? As she begins her latest rehab stay, only RadarOnline.com has all the details of Richards' secret pain: the tragic murder of the one love of her life, and how it set her off on a dark path.
Article continues below advertisement
More than 25 years ago, Richards met John Collett and it was love at first sight.
"He was leaving an AA meeting and Kim was driving to a meeting," his mother, Jan Collett told Radar.
"He drove a Porsche convertible and he said 'Wait a minute, are you Kim Richards?' She said yes and he responded, 'I've been in love with you since I was 10 years old.'"
"He said 'Let's go to dinner,' they made a date and fell in love."
John, a commodities salesman, soon proposed to Kim knowing the struggles she fought on a daily basis.
"I knew she had problems," said Jan, whose son had been sober eight years when he met Richards.
"She had a major problem with that and John was very concerned about that.
"She was sober when she was with John and she never seemed to have a problem because his feelings were so strong about it. He believed it and Kim believed it."
Article continues below advertisement
"I believe John was Kim's connection to sobriety," Jan said. "He was tough with himself and with people he sponsored. He felt you have no control over what people do, but he felt their relationship was pretty strong. They went to meetings all the time and she had a sponsor and they were spending time with her little kids."
But Richards' fairy tale turned into a nightmare when her fiancé, then 29, was gunned down by a hit man outside a San Fernando Valley deli in in 1991. Richards had to identify the body.
"He had just open brokerage firm and they got engaged and then he was killed," his mom told Radar. "It destroyed and hurt a lot of us."
The kiler, Marva DeCarlo Johnson, was sentenced to 30 years to life in June 1993. And though prosecutors proved he had completed a paid hit against John, to this day no one knows who ordered the killing or why.
"John was handsome, warm, loving, fun and extremely funny,' his mom said. "He'll be missed forever.
Article continues below advertisement
"He had a very strong effect on Kim and I'm pretty sure she'll never forget him," she said.
Jan said she saw how genuine, yet fragile Kim's personality was even back then.
"She was one of the most beautiful, goodhearted and naïve people I ever met in my life," she said.
"Money never seemed important to her, but many around her were, and she was manipulated at times."
"Generally speaking, many people who were drawn to her were very interested in her fame and she was an amazing child actress."
A recovering alcoholic herself, Jan has watched Richards' battle with alcoholism from a distance.
"I've been sober 29 years, but some people can't get sober," she told Radar.
"I do believe that if a person wants to be sober, then they will be sober."
"Kim, I think, she probably learned how to take direction from so many people who told her what to do and it's difficult to break away from that when you're raised in the situation Kim was raised in," she added. "They knew how good she was and pushed her to get there and she felt like she always had to perform and that's lot of pressure."
Article continues below advertisement
"She was destroyed when John died and perhaps if she had different tools she would have gone on from there."
But no matter what, Jan says she couldn't have predicted Kim's recent arrest at the Beverly Hills Hotel.
"Kim, under normal circumstances, when she's not drinking was not like that at all," said Jan.
"Sometimes when we take s**t from people we tend to hold things in."
"She is one of the best people I know. She had a lovely spirit," Jan continued, adding that she hasn't spoken to Kim in a couple years.
But she'd like that to change.
"I'd love to speak with her. I want to put my hand out and say 'Kim, I love you.'"