Exclusive
Worst Week Ever! 'RHOBH' Star Kim Richards' Dog Bite Victim Asks Court To Sign Off On $1 Million Default Judgment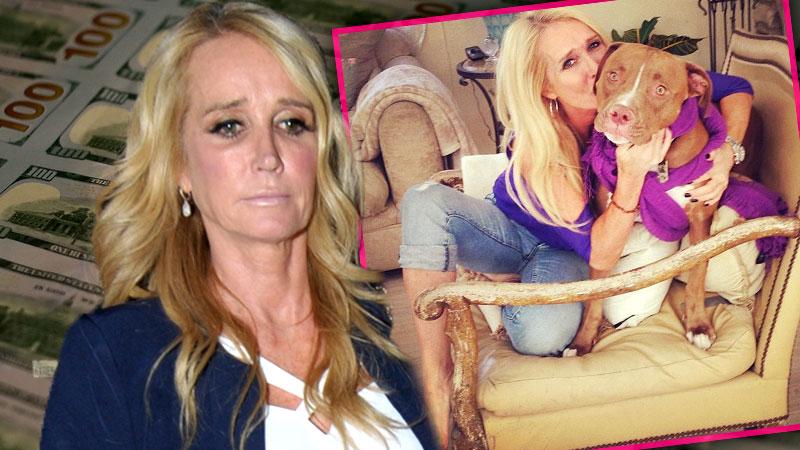 Real Housewives of Beverly Hills star Kim Richards is having the ! After being arrested on April 19 while intoxicated at the Beverly Hills Polo Lounge, RadarOnline.com has exclusively learned that the former friend who is suing her just asked a judge to make a default judgment that would force Richards to pay more than $1 million!
In the papers, filed by 80-year-old Kay Rozario's attorney, Bill Zuhdi on April 22 and obtained by RadarOnline.com, Zuhdi requests an "Default Judgment Against Defendant Kim Richards in the amount of $1,050,000.00
Article continues below advertisement
As RadarOnline.com previously reported, Rozario was a "longtime family friend" of Richards, who was mauled by her pit bull, Kingsley, while staying as a guest at her Los Angeles home one year ago.
The elderly woman sustained extensive injuries after being attacked by the animal. After being rushed to the hospital, she received numerous stitches for her wounds.
Rozario's attorney, Zuhdi, tells RadarOnline.com, "We feel that this is an appropriate amount of money due to Kay Rozario's disfigurement, pain and suffering. We also based the amount requested on Kim Richards' conduct after the attack." The judge in the case has yet to rule on their request, which would effectively end the lawsuit.
In the meantime, RadarOnline.com has also learned that RHOBH producers are off the hook. On April 22, a judge ruled to against Evolution Film & Tape, Inc., the production company used by Bravo and RHOBH. Judge Andre Birrote Jr. dismissed them from liability in the attack, on the basis that Richards "Has Not Sufficiently Pleaded Justifiable Reliance … Has Not Sufficiently Pleaded the Existence of An Agency Relationship, Because Her Conspiracy Claim is Based on Her Intentional Misrepresentation Claim and because she Has Not Sufficiently Pleaded a Conspiracy Claim," the ruling obtained by RadarOnline.com states.
However, Birotte ruled, "Defendant Kim Richards shall remain a party to this litigation."