Shocking Outburst! Defiant Dzhokhar Tsarnaev Flips Middle Finger & Paces Like Maniac In Video Boston Bomber's Jury Saw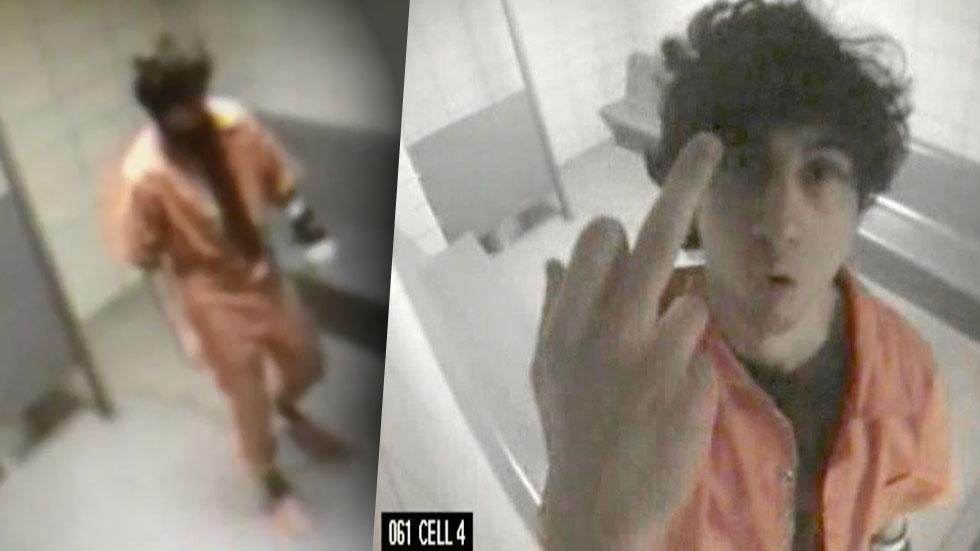 Dzhokhar Tsarnaev makes an obscene gesture and paces back and forth in his cell in a clip jurors in the murderer's death penalty trial saw Wednesday.
Prosecutors in the ongoing proceedings, taking place at the U.S. District Court in Boston, showed jurors the striking imagery of the convicted murder's middle finger to conclude their opening statement in hopes of illustrating that Tsarnaev was "unconcerned, unrepentant, and unchanged" in the wake of the deadly April 15, 2013 bombing.
Article continues below advertisement
Tsarnaev's defense team requested Wednesday that the entire clip, shot on July 10, 2013, should also be shown. During the time it was shot, a restless, pacing Tsarnaev was getting ready for an arraignment on murder charges (he was subsequently convicted of).
Gary Oliviera of the U.S. Marshals Service said he witnessed the hostile outburst as it was happening on a surveillance camera, told his bosses, and wrote an official report on the incident on July 12, 2013.
MORE ON:
Dzhokhar Tsarnaev
In the full clip, the also primped his coif, made a gesture of his hand in a "V-sign," and then flashed the middle finger.
Watch the video on RadarOnline.com
Tsarnaev defense posts video of the bomber pacing around in his cell. This as government posts middle finger pic pic.twitter.com/dHUwUUhUuF

— Brad Tatum (@BradTatum) April 22, 2015
Tsarnaev this month was linked to the Boston Marathon bombing -- 17 of which have death penalty implications.