Exclusive
Bruce Fires Back! Jenners Lawyers Send Cease & Desist Letter To Paper That Published Dress Photos — Pictures Taken Down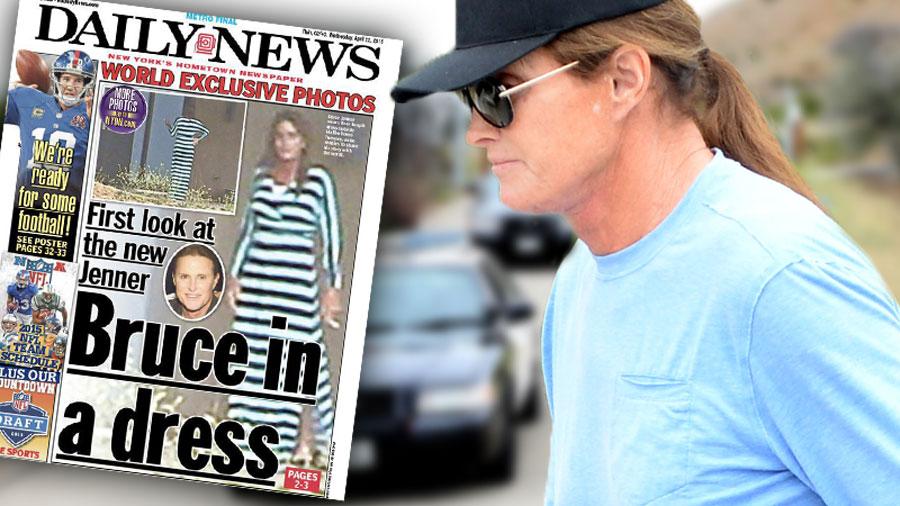 Bruce Jenner is on the attack! After the New York Daily News published photos of the father of ten wearing a dress on the patio of his Malibu mansion, RadarOnline.com has learned that his lawyers fired off cease and desist letters to the paper and the photo agency who sold the images, demanding they be removed from the internet.
The photos were published Wednesday on the cover of the New York Daily News and on their website.
Article continues below advertisement
A source told Radar, "Bruce's lawyers wasted no time in hitting back hard. They sent correspondence stating that withdrawing the images didn't constitute his waiver of pursuing further legal action including suing for invasion of privacy. By taking immediate action, Bruce wants it known that these type of invasive and ."
The photos of Jenner in a striped black-and-white dress, and puffing a cigarette.have since been removed from the New York Daily News website.
When the photos were published Wednesday, a source warned, "Bruce has decided to take legal action because he is fed up with the constant invasion of his privacy." Under California's Civil Code 1078.8 (also known as the Anti-Paparazzi Statute), it's illegal for photographers to take pictures of someone on private property with a telephoto lens.