Exclusive
Vivica A. Fox Slams 'RHOA' Star Kenya Moore: 'She's Not Fooling Anyone'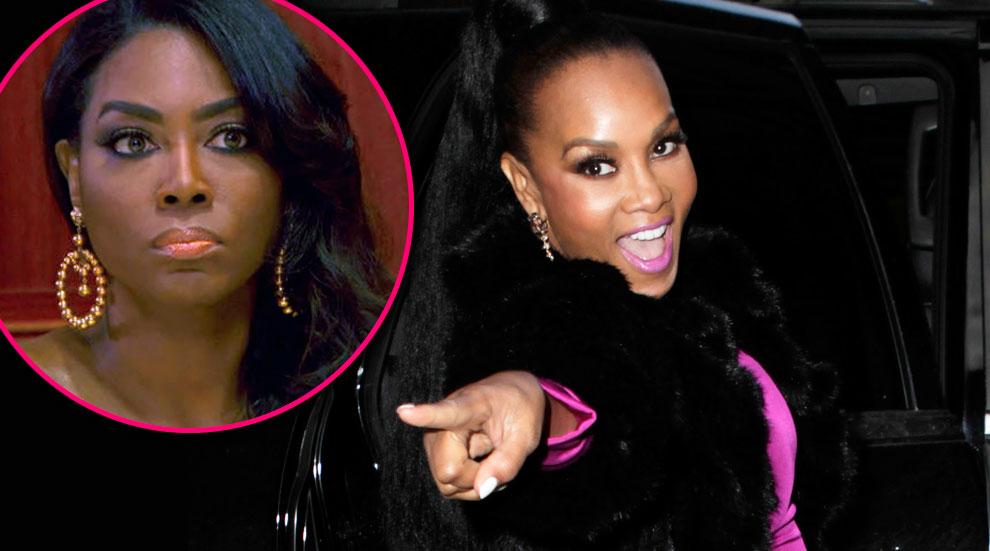 Kenya Moore and Vivica A. Fox ended their reigns on Celebrity Apprentice in a nasty feud after Moore said that Fox suffered from severe mood swings while on the show and Fox accused Moore of stealing her iPhone and tweeting out a demeaning message. But now that the cameras are no longer rolling, the drama between the two enemies continues to heat up! Fox spoke out to RadarOnline.com to set the record straight.
Article continues below advertisement
Real Housewives of Atlanta star Moore "keeps going on!" Fox — who hosted the 2014 Femmy Awards sponsored by The Underfashion Club — tells RadarOnline.com. "But you know what that's about? It's her diverting from the truth."
Fox doesn't believe that her behavior is "embarrassing," like Moore claimed.
"The thing that kills me the most with Kenya, that she said, 'Vivica has built her career on being ghetto…' I beg to differ," Fox says. "I built my career on working with Oscar winners — from Jamie Foxx, to George Clooney, to Anne Hathaway."
Fox uses her work history as an example to back up her words.
"My box office receipts speak for themselves," she claims. "My brands speak for themselves. My resume speaks for itself."
Unfortunately for Moore, Fox has her boxing gloves on now.
"I haven't build my career on being ghetto and classless," she says. "But if you need me to get ghetto and set it off on you, I will. I'm no punk. I'm not to be taken lightly."
MORE ON:
Celebrity Apprentice
Article continues below advertisement
Fox also maintains that Moore stole her phone — a claim that emerged after Moore appeared to tweet about menopause and later claimed she was hacked.
"All of this camouflaging and diverting from the truth is that she stole my phone, hacked into my Twitter account and posted that message," Fox says. "She did that. Trust me, I know she did that because I had to go out and buy another phone for $600."
While people have questioned how Moore was able to steal the phone and log onto it, Fox says that it's because she never put a lock on her phone.
"At the time, I did not because I'm used to working and being around people that I can trust," she says. "There are times that I hand my phone to my assistant, to my hair or makeup artist, and I'm like, 'Call such and such.' I have legitimate businesses going on and I'm around people that I can trust."
At the end of the day, however, Fox hasn't struck out the possibility of befriending Moore one day.
"I could totally be friends because we all make mistakes and we're all human," she says. "But when I can appreciate or forgive a person, or be friends with someone who did me wrong, it's for them to accept responsibility for their actions and apologize."
"To divert and then try to throw the insults at me, I just found it to be so much more of a turnoff because everyone could see what's happened," she says. "She's not fooling anyone."