Whitney Or Becca? Find Out Who Chris Soules Chose On 'The Bachelor' Here!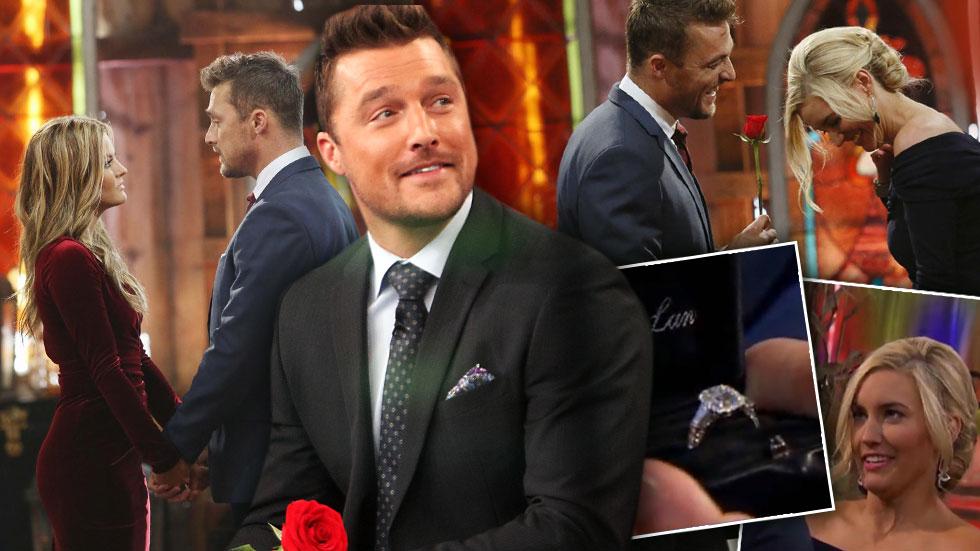 The Bachelor came to a memorable conclusion Monday, with Chris Soules proposing to one of the ladies, and RadarOnline.com has all of the highlights from the finale.
SPOILER ALERT
The Big Moment
Chris Soules chose stunning fertility nurse Whitney Bischoff over chiropractic assistant Becca Tilley, dropping to his knee in the barn of his Iowa farm, and proposing to her.
The chemistry between the two was undeniable, and Whitney didn't hold anything back in expressing how she felt to the hunky Soules.
Article continues below advertisement
Watch the video on RadarOnline.com
"Everything has boiled down to right here," she said. "I love you so much, I really do, and I'm so scared right now."
The intense feelings of romance were mutual, as Soules, 33, told the 29-year-old stunner, "From the moment that I met you, from the moment you got out of the limo … I thought, 'This woman is perfect for me.'
"Being able to have you here today and being able to have you here in Iowa, meeting my family and seeing how they reacted to you, there are so many things about you that I am excited about."
Soules gushed about their "natural" chemistry and how they "both want the same thing" out of the romance.
He continued, "It feels so right, it feels so perfect, and that's what I want for the rest of my life; I love you."
The handsome ABC star then unveiled a huge Neil Lane diamond ring and proposed to the Chicago beauty, who responded, "Absolutely!"
The Other Woman
Becca's reluctance to fully commit to the Iowa hunk seemed to be her downfall in the quest for the farmer's affection, as she admittedly wasn't fully ready to relocate for her reality show love.
Article continues below advertisement
"I don't think it will be easy-breezy, doing long-distance," she told him. "But I can't make any promises on a timeline when I would be ready to move and pick up my life."
Soules told her in their last segment that she was "not really ready" for the commitment he was seeking.
"I have to just go with my heart and my gut, and I don't think it's fair for either of us to take that leap at this point," he said. "I'm in the toughest situation of my entire life.
"You are here because I felt it, and I've wanted it to happen, and I am so thankful to have been able to meet your family and be with you."
She told him in response, "You're an amazing person, and this whole experience was the way it was for me because of you."
After The Final Rose
ABC saved its' most surprising announcement for the after-show, announcing that this summer's edition of The Bachelorette will begin with two beauties -- Britt and Kaitlyn -- with 25 men deciding "who they think would make the best wife," host Chris Harrison said.
The new twist will be in action, when The Bachelorette returns to ABC May 18.