Exclusive
Sex Offender Demands 'The Bachelor' Be Banned From TV — Show 'Broke My Heart!'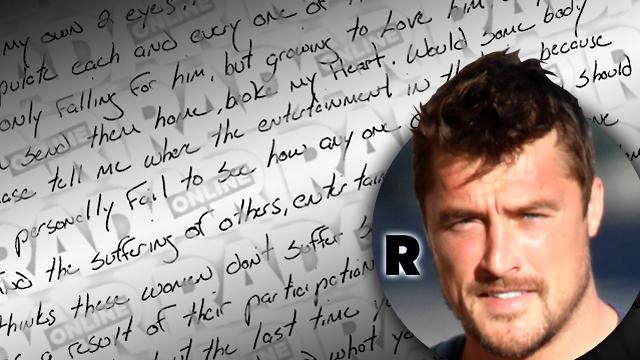 A convicted sex offender is so offended by The Bachelor star Chris Soules' manipulation and subsequent rejection of women on the ABC reality TV competition that he is demanding a federal judge ban it from the airwaves.
"Please put a stop to this before someone gets hurt beyond repair," Wayne Albright, 43, wrote in his emergency motion for a preliminary injunction and temporary restraining order.
Watching the February 16 episode "broke my heart," the convict says in the handwritten federal court filing, which names Soules, The Walt Disney Co. and ABC Television as defendants.
Article continues below advertisement
"As I sat and watched this program and Chris's pursuit to find his wife play out on TV for the whole world to see, I couldn't help but feel sorry for the women who aren't chosen, who's hearts were clearly broken when Chris sent them home, but even more than that, I was very disgusted with the whole concept of The Bachelor as a television program broadcasted into the homes of every American in the country," said the man who is serving time in a Pennsylvania prison for a sexual assault conviction and has been locked up since 2003.
Albright writes that it is his "duty" to call attention to the harm he believes the show creates.
"The thought of children viewing this material without having a clear understanding of what it is their watching disturbs the hell out of me, pardon my French," Albright writes. "What kind of examples are we as a society setting for the next generation of Americans who will undoubtedly have some control over the directions this country travels."
The Bachelor is not entertainment, but torture, the inmate adds. "As I watched this program and saw with my own 2 eyes how much Mr. Soules was able to manipulate each and every one of the 30 women into not only falling for him, but growing to love him, only to then send them home broke my heart."
Soules, Walt Disney and ABC have not yet filed a response to the motion.