Shady Shaman! Staff Member At Scott Disick's Rehab Has Past Run-In With The Law, Warrant For His Arrest — Find Out Why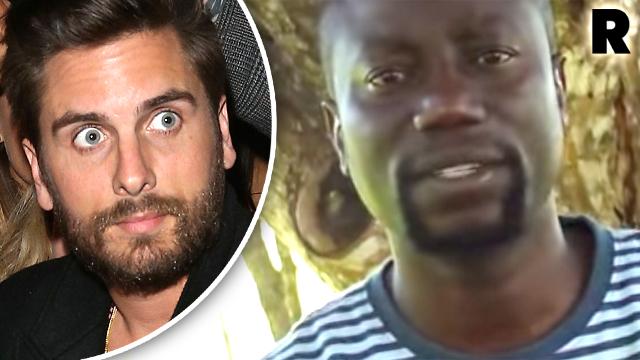 Apparently anyone can become a shaman these days! RadarOnline.com has learned that a top staffer at Scott Disick's controversial Costa Rican rehab center has a shady past that includes a stint on a Michigan's Most Wanted list, and a warrant for his arrest.
Moughenda Mikala, the "Chief Flight Guide" at the Rythmia Life Advancement Center, is now the man responsible for ensuring Kourtney Kardashian's baby daddy's safety as he takes the powerful hallucinogenic ibogaine.
Article continues below advertisement
But before that, Radar has learned, Mikala​ had an arrest warrant issued by the Oakland County Sheriff's Department in Michigan, and was featured on their website as "most wanted."
The warrant was issued several years ago in a suburb of Detroit, where Mikala worked as a clerk at Dunkin Donuts and drove a garbage truck.
"Patrick Nzamba Mickala aka Moughenda Mikala is wanted by the Oakland County Sheriff's Office/Friend of the Court Office," the website states. "Mickala is wanted for Failure to Appear at 6th Circuit court for Child Support issues. Owes in excess of $32,600.00 in back child support.
"Last U.S. residence was in Florida and believed to be traveling between the U.S. and Central America (Costa Rica)," the post continues. "Probably traveling with wife, who is Canadian citizen. … May now be involved in business selling herbal treatments and promoting spiritual healing."
The arrest warrant was withdrawn after Mikala resolved the dispute, Radar has confirmed.
Now, Mikala's role as Chief Flight Guide at Rythmia Life Advancement Center consists of spreading "the healing of the Iboga root to the Western World," the center's website states. "Together with his close family and Rythmia center, he uses his traditional African Bwiti Shamanic skills and the full Iboga root to provide safe, comfortable and life changing detoxification, psycho-spiritual exploration, traditional physical healing and pre-initiation ceremonies."
Article continues below advertisement
The iboga, a rainforest plant and psychedelic, is currently illegal in the United States.
Delray Beach, Florida addiction specialist and therapist Marty Brenner told Radar, "Patients experience strong hallucinations and body sweats. Patients can even die from it."
Brenner, who does not treat Disick, says the treatment only lasts three to four days — and he has never seen a success story.
"It seems that Scott wants a quick fix to recovery," the Insight To Recovery specialist says. "He wants an easier, softer way."
The facility, which issued a press release announcing Disick's arrival, didn't immediately respond to Radar's request for comment.