'Your Fans Are Not Happy With You': Public Outrage Continues Against Derick Dillard In Controversial Cat-Sledding Incident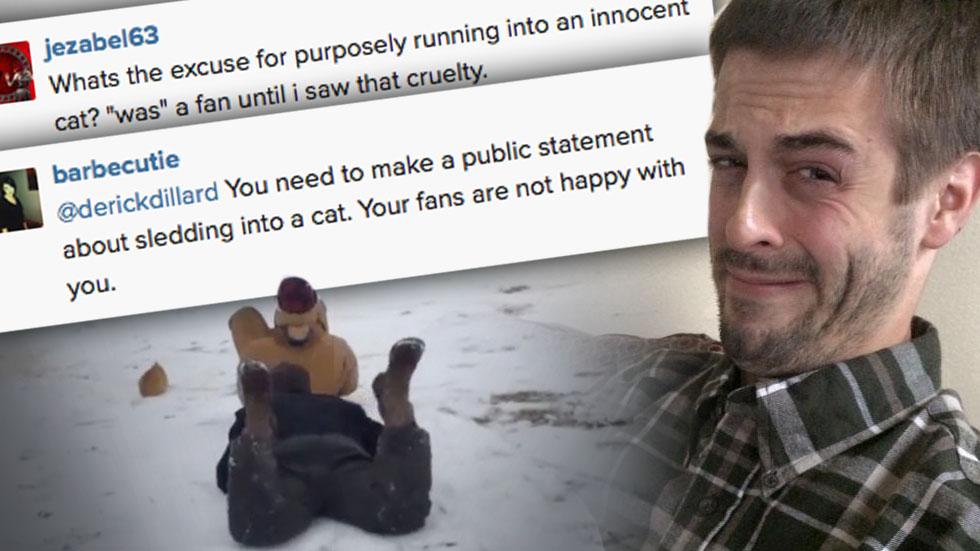 The hits kept coming for Derick Dillard Thursday, as Instagram commenters continued to hammer him over a clip he posted, in which he aimed for a cat while sledding downhill.
As RadarOnline.com previously reported, Jill Duggar's husband raised tempers after the clip in which he aimed for a cat perched downhill while getting a boost from another Duggar-in-law, Jessa's husband Ben Seewald.
The 19 Kids and Counting star, who works at Wal-Mart, continued taking shots from users Wednesday after posting a generic pic of the snowy Arkansas landscape.
Article continues below advertisement
https://instagram.com/p/z09EjBGCZz/?modal=true
One, @barbecutie, told Dillard, "You need to make a public statement about sledding into a cat. Your fans are not happy with you."
User @mollyannemcguire wrote: "poor cat. you should be ashamed of yourself. that animal did nothing to you, and yet you decide to sled over it while knowing it was right there. #StopAnimalCruelty #nohate."
A user under the handle @jezabel63 asked him, "Whats the excuse for purposely running into an innocent cat? 'was' a fan until i saw that cruelty."
And the harshest, perhaps, came from @lizzyacheetah, who took shots at not only Dillard, but his family and his employer, as well.
"Duggars children are drones with no capability of thinking on their own," @lizzyacheetah wrote. "I'm not surprised @derickdillard would post that horrible video. I. Not surprised he works @walmart, another disgusting addition to America. Way to go!"
On Wednesday, PETA chimed in about the controversy, calling out the reality star for sending the wrong message "to scores of impressionable young children," and pointing out how his actions did not square with his religious background.
Dillard needs to "remind his followers that Jesus' command to 'do unto others' includes all of God's creatures," the animal rights activists said.
Readers, do you think Derick should address the rage, or hope it blows over? Sound off in comments!