Failed Suicide & PTSD—Inside The Painful Past Of Bristol Palin's New Fiancé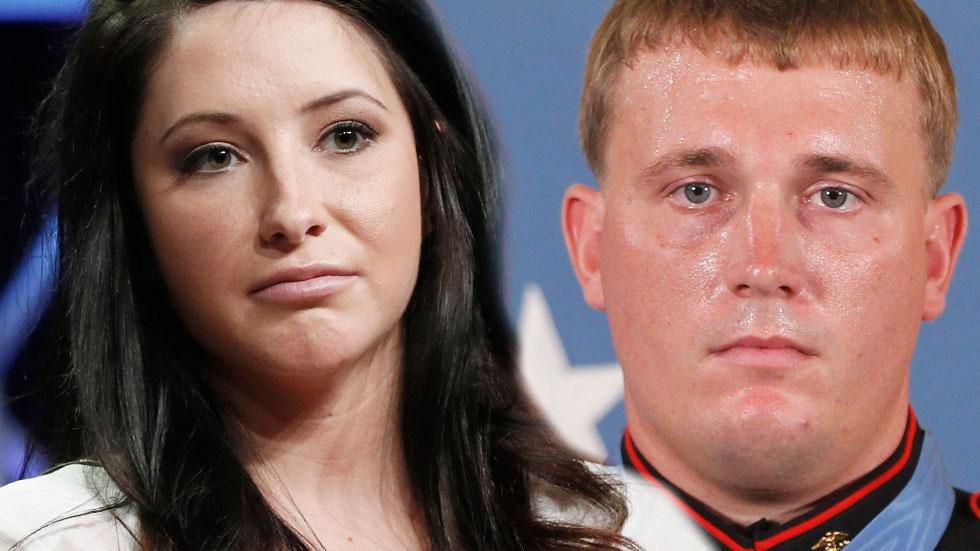 Bristol Palin is racing to the altar with Dakota Meyer, but she may want to slow down in order to learn more about her man — and his secret struggle that almost resulted in his death.
RadarOnline.com can reveal that the heroic former Marine and 2009 Medal of Honor recipient has detailed his battle with post-traumatic stress disorder, or PTSD, and all it's complications.
Meyer revealed his PTSD and depression worsened after he returned from battle and began thinking about his fellow soldiers who had lost their lives in Afghanistan.
Article continues below advertisement
"I would question things. It was a lack of confidence," he said during one interview with Fox News. "I was second-guessing myself, thinking 'I'm just not normal,' and I'm trying to figure thing out. I'm trying to make reason of what happened and how to go on from this point forward."
He grew so despondent that he nearly committed suicide.
"I was going down the road, and I was tired of being a burden on my family," he said in 2012. "I was just tired of it all, and it just seemed like the easy way out. I pulled over to the side of the road and I pulled one of my guns out. I just put it to my head and squeezed the trigger. How there wasn't a round there, I don't know."
However, Meyer, 26, once said, "If I don't want to live for myself, I have an obligation to do it for those who never got that chance."
Meyer also slammed using PTSD to explain away crimes committed by troubled soldiers, including Army Spec. Ivan Lopez, whose April 2014 attack at Ford Hood in Texas killed three soldiers and wounded 16 others. Lopez eventually turned the gun on himself and committed suicide.
Article continues below advertisement
"Going out and shooting your own friends, your own people, that's not PTSD," said Meyer of the incident. "I don't know what the word is for it. It's close to psychotic."
"PTSD does not put you in the mind set to go out and kill innocent people," continued Meyer, noting his own experiences with the disorder. "The media label this shooting PTSD, but if what that man did is PTSD, then I don't have it."
Meyer insisted that using PTSD as an excuse for horrific behavior hurts other military men and women.
"It's putting a stigma on all veterans," he said. "It's putting a label on all veterans that veterans are psychotic or mentally unstable and they're going to shoot up places. And they're not."
As RadarOnline.com reported, Palin, 24, announced on March 13 that she was engaged to Sgt. Meyer. "Truly the luckiest girl in the world, cannot wait to marry this man," Bristol wrote next to photo of herself kissing Meyer.