Writers Guild Awards Gift Bag Giveaway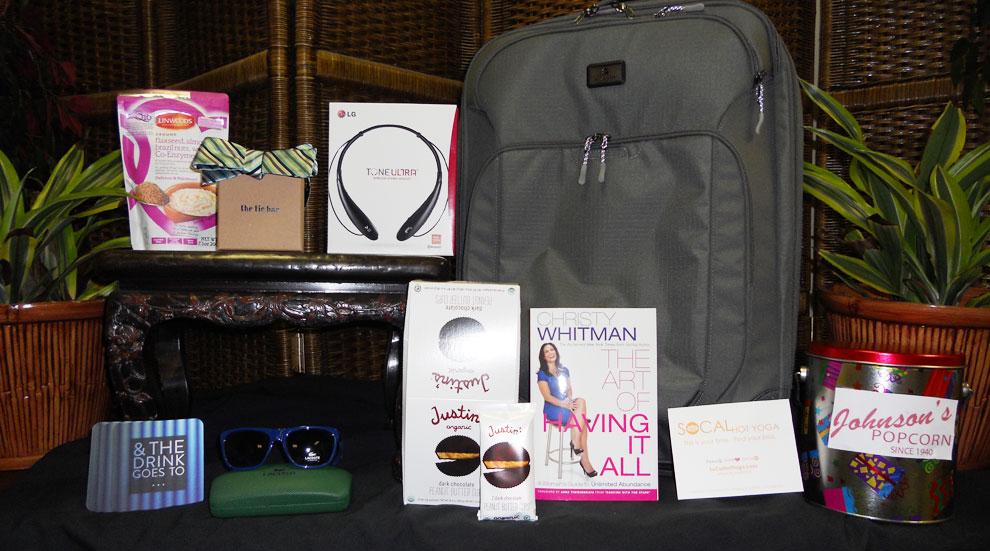 You too can be a star! Win the same bag given to Lisa Kudrow, Patricia Arquette and Terry Crews at the Writers Guild Awards. To enter, tweet @radar_online using #RadarAwardsGiveaway. Contest runs until Feb 25th at 11:59pm EST. Prize valued at $1106 and includes:
Prizes Include:
· Christy Whitman, author of The Art of Having It All: A Woman's Guide to Unlimited Abundance – New York Times best-selling author of three books including Taming Your Alpha Bitch, Christy Whitman doesn't practice what she preaches; she preaches what she practices. Her latest book, The Art of Having It All: A Woman's Guide to Unlimited Abundance, brings together the most cutting edge and efficient strategies of deliberate manifestation, refined over a decade of coaching others to lead more successful, abundant, and self-expressed lives.
Article continues below advertisement
· Jesse Tyler Ferguson's Tie The Knot for The Tie Bar – Tie The Knot was founded by Jesse Tyler Ferguson to raise awareness and advocate on behalf of LGBTQ equality throughout the world and in 2012, The Tie Bar partnered with Tie The Knot. Seasonally, The Tie Bar produces an exclusive line of bow ties that are designed by Jesse and Justin and promote marriage equality throughout the United States with $20 of every $25 purchase (or $25 of every $35 purchase) from the Tie The Knot Collection donated to TieTheKnot.org.
· LG Electronics – LG TONE ULTRATM features JBL® Signature Sound that provides a premium sound experience and Ambient Noise Cancellation (ANC). With its award winning around-the-neck wearing design, this lightweight headset adds convenience to your daily commute, business trip or workout session.
· Marchon – Designer eyewear by Marchon.
· The Container Store – The Container Store' provided their Eagle Creek™ Grey 25" 2-Wheeled Luggage.
Article continues below advertisement
Celebrities will also receive:
· The AT-A-GLANCE 2015 weekly planner is the perfect addition for any professional. It is a neutral planner with a textured, natural linen cover and navy spine and includes 13 months (from January to January).
· www.InvitationConsultants.com – Coasters are more than a pretty spot to place your drink! Add a truly unique touch to your tablescape or cocktail hour.
· JOHNSON'S POPCORN INC. - Hand tossed caramel corn made directly on the Ocean City, NJ Boardwalk. Made with the same excellent quality since 1940.
· Justin's – Justin's Organic Peanut Butter Cups – The Way a Peanut Butter Cup Should Taste!
· Linwoods Health Foods – Linwoods Health Foods are tasty superfood blends that conveniently provide a natural source of omega oils, dietary fiber, vitamins, antioxidants & minerals to add in to your every day diet to help maintain a healthy heart, immune and digestive system. Linwoods Ground Flaxseed, Almonds, Brazil Nuts, Walnuts & Co-Q10 features Q10, a highly effective antioxidant that contributes to the production of energy in every cell in the body.
Article continues below advertisement
· SoCal Hot Yoga – 3 Month Unlimited Membership to SoCal Hot Yoga, a boutique Los Angeles hot yoga studio specializing in private and small group classes in the Brentwood community. The classes combine an energetic yoga flow series with stretching yoga postures to increase heart rate, tone muscles, and improve overall strength, flexibility, mental focus and balance. Share #PeaceLoveSoCal.
Items in photo subject to change based on availability- some colors and styles may vary. Courtesy of Backstage Creations.