Ouch! 56-Year-Old Madonna 'Miserable' After Wiping Out During BRIT Awards Performance — 'In Pain' & Humiliated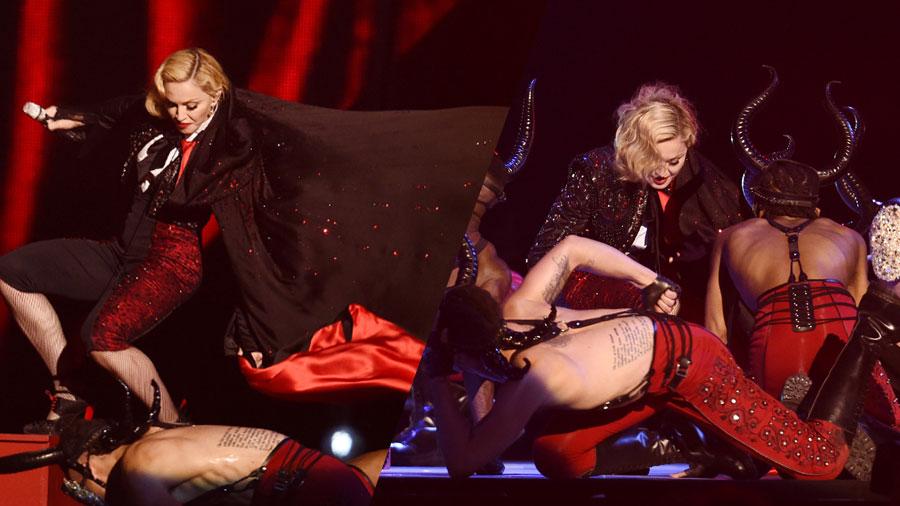 Time to hang up the cape? Madonna took a nasty fall while performing on stage during the BRIT Awards Wednesday night and Twitter haters instantly lashed out at the 56-year-old singer, calling her "old" and snarking about her brittle bones. And though she brushed it off in public, RadarOnline.com has learned she's "miserable" about the humiliating gaffe behind the scenes.
It all went down — literally — during her performance of "Living for Love," when a dancer attempted to pull of her cape and she tumbled backwards down a flight of stairs, landing on her back.
Article continues below advertisement
WATCH The Dramatic Tumble:
The Twitter hate started immediately, with critics online mocking the "Material Girl" for her advanced age.
The "Like A Virgin" singer explained her accident on her Instagram page, blaming her wardrobe for the shocking fall.
But behind the scenes, RadarOnline.com has learned, she was "miserable" over the embarrassment.
An insider reveals that the "Material Girl" quickly left the show after the incident, returning to her quarters at The Arch London hotel.
"She came in under the care and support of others," the insider said. "She's really hurt."
"She's in a lot of pain, and she's miserable," the source continued. "She's embarrassed, sad, and disappointed."
Story developing.