Sealed With A Lick! Kim Kardashian Licks Kanye West's Face In Cozy Recording Studio – Out-Class That, Amber Rose​​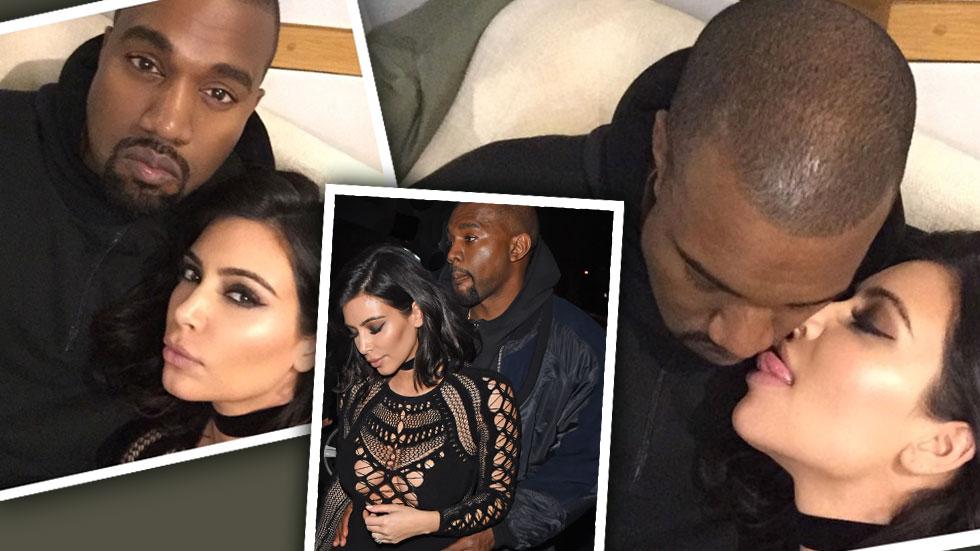 Take that Amber Rose!
Kim Kardashian reminds us all that Kanye West still belongs to her – with a sticky-licky photo!
The happy couple have been enjoying their time across the pond for the Brit Awards. The 34-year-old reality star even introduced her rapper hubby during the show on Wednesday, Feb. 25, before partying with famous friends and flaunting their red-hot romance.
West also debuted his new single "All Day" for the awards show, before returning to his seat and chatting up new friend – and potential collaborator – Taylor Swift. The bad blood between those two is officially gone!
Article continues below advertisement
Later, Kim and Kanye settled down in the studio where the rapper was working on some new tracks. Kim took the opportunity to share just how happy they are, posting a photo on Instagram that pictured the selfie-queen licking her husband's face. She captioned the photo: "#KimKAllDay"
Guess that settles the Kardashian-Amber Rose feud for good. Of course, so did Kanye's comment that he had to take "30 showers" after his relationship with the one-time stripper.
The outspoken artist slammed his ex during an interview with Power 105's The Breakfast Club saying, "If Kim had dated me when I first wanted to be with her, there wouldn't be an Amber Rose, you know what I'm saying?"
No one can take down Kimye! Now let Kim take a selfie: