Keep Up, Kardashians! Khloe Shows Off Her Abs Of Steel Following Fitness Makeover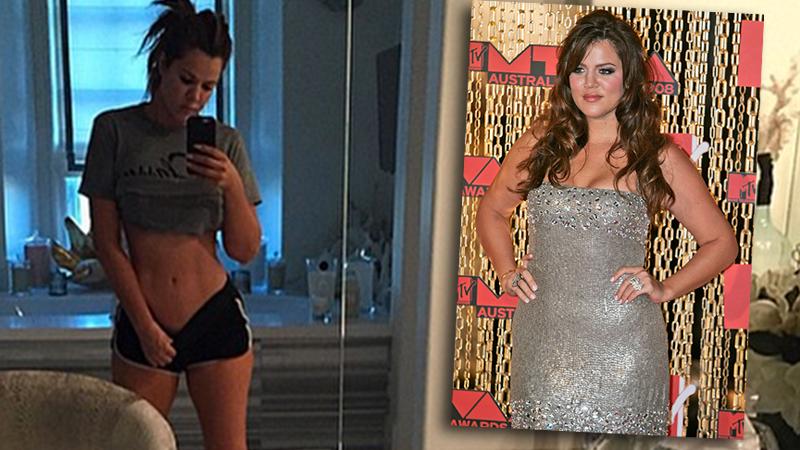 No one's going to be calling Khloe "the fat one" anymore!
The youngest Kardashian sister took to Instagram to show off her toned abs on Friday, likely causing millions of jaws to drop worldwide.
"My fitness journey will be a life long journey," the reality star promised in a Feb. 27 post. "Fitness is not about being better than someone else … It's about being better than you used to be."
Despite her positive mindset, the 30-year-old reality star admitted she isn't completely pleased with her progress — yet.
Article continues below advertisement
"I'm not where I want to be and who knows if I ever will be," she wrote. "But I am healthier than ever and due to my consistent workouts, I am slowly seeing results."
And fans are seeing her sense of humor. "Hi baby abs!! I see you!!!" she joked in a photo caption. "I hope to meet your other ab friends soon (yes I'm talking to my muscles. I've never met most of them before)."
"Looking back at pictures of myself I didn't realize at the time how unhealthy my lifestyle was," she confessed. "People love to call me the fat one, but as weird as it sounds I still don't think I would consider myself fat back then. Definitely overweight and unhealthy, yes."
Kardashian offered some valuable advice to those who may be inspired to follow in her fitness footsteps.
"Start small so you don't get discouraged and give up," she recommended. "Remember it is all about consistency. There are no quick fixes if you want long-term results. Working out is a huge part of my life now. I genuinely enjoy sweating out my frustrations and living a healthier life."
She also noted that workouts are not all about vanity.
"They are about clarity for my mind and soul," she insisted, praising the virtues of dedication and tenacity in accomplishing personal goals. "We all have different journeys in life, make sure your journey is for you and you alone."
Do you think Khloe has finally taken the title of hottest Kardashian from her big sister Kim? Tell us your thoughts in the comments below.