Insta-Growl! Kanye West Stares Daggers At Selfie-Snapping Fans At Super Bowl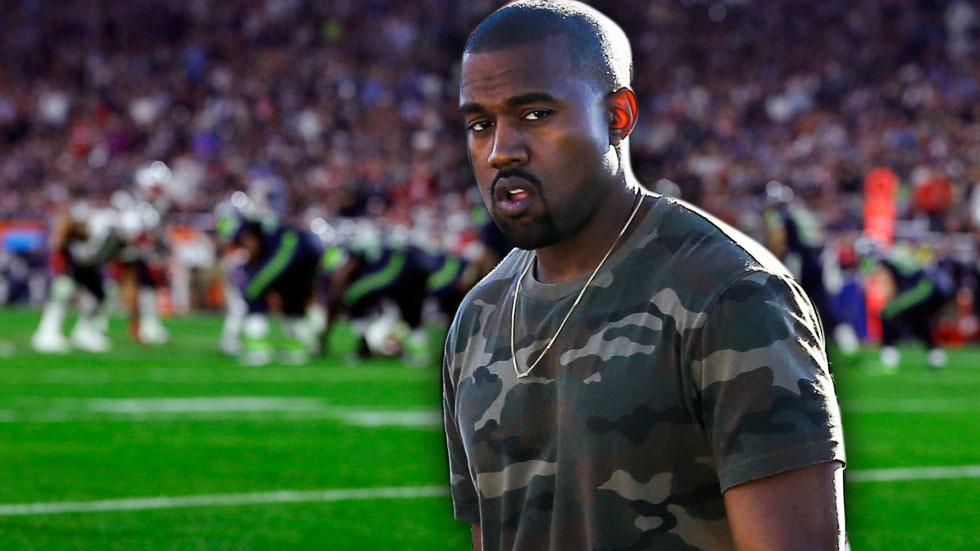 Kanye West did not look like a happy camper attending Super Bowl XLIX Sunday at University of Phoenix Stadium, as the rapper put on a sad face when snapped in fans' selfies.
The "Hold My Liquor" singer had his growl on -- in a camouflage shirt, fittingly -- as fans at the big game wedged their way near the luxury box he sat in, trying to capture selfies with him and his wife, Kim Kardashian.
One Instagram user Ben Pitasky, named "boomp0w," wrote "Kanye loves the Hawks and being bothered," leaning over a guardrail as the rapper sulked with his arms folded.
Article continues below advertisement
http://instagram.com/p/ylD4wTGRjU/?modal=true
Another named Dakotah George, under the username "kingeorge12," flashed his pearly whites in a selfie with a shocked-looking Kanye looking straight into the shot, while Kim smirked while tending to her cell phone.
http://instagram.com/p/ylFhwHqgAp/?modal=true&utm_source=partner&utm_medium=embed&utm_campaign=photo
Kanye wasn't the only R&B superstar whose fans got too close for comfort at the tightly-packed stadium, as one fan shared a shot of a dismayed Rihanna.
http://i.imgur.com/BVKzsU0.jpg
Readers, your thoughts? Are the celebs right to scowl at their prying fans, or does it come with then territory of fame?