Too Nice? Tamra Barney Slammed For Her Kind Words To Teresa Giudice's Girls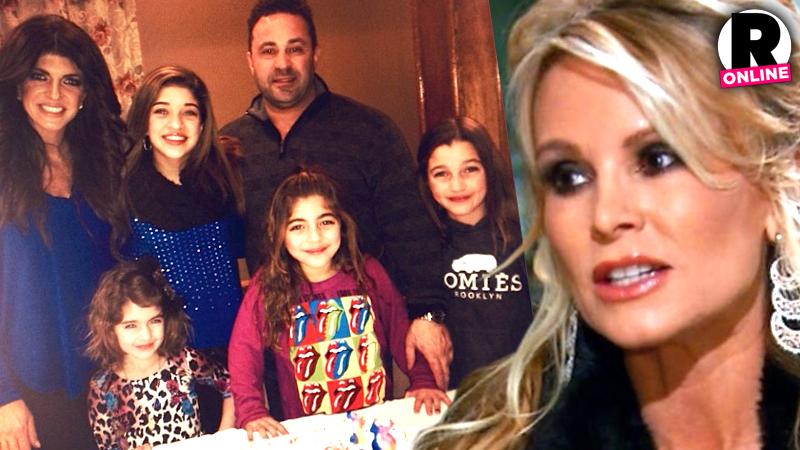 From one housewife to another. As Teresa Giudice spends her first day behind bars separated from her children, her fellow housewife Tamra Judge is sending her kind words - and getting slammed in the process!
The Real Housewives of Orange County star took her Facebook page on Monday to write to Giudice, saying: "My Heart is breaking for Teresa and her family today. prayers for those little innocent girls."
Article continues below advertisement
Her sentiments were not warmly received by her Facebook followers and she was quickly slammed by many who called Giudice a "criminal."
"Its a shame they didnt think about their kids while they were committing their crimes," one of Judge's followers wrote.
Another echoed the sentiments, writing: "I feel sorry for the kids but def not for her or joe. They did this to themselves and when given the chance to come clean they lied again. I read she also isn't telling the younger girls the truth. She is missing an opportunity to teach them morals and values."
As the incarcerated mother begins her 15-month sentence, Judge's followers believe that Giudice received special treatment.
"They are criminals," another follower wrote. "​Most people could live for years on what she spends in a year. Do you think other criminals get the benefit of waiting til after xmas to go to jail ? or if it is a husband and wife, they take turns going so their kids have a parent home? I would expect more from you. We live in the real world, and thought you at least understood that. I feel sorry for kids that are collateral damage and end up in foster care because of their parents criminal activity, not kids who will continue to live a priveledged life on ill gained money."
However, there were a few supporters for the troubled Real Housewives of New Jersey star. One commenter wrote: "I don't agree with her sentencing! She didn't rape anyone or assault anyone! Considering that people who sell drugs and literally kill people get less time makes no sense to me."
What do you think about Teresa's jail time? Sound off in comments below.​