Kim Zolciak Accused Of Photoshopping Super Slim Bikini Selfies, Attributes Figure To Nutrition Shakes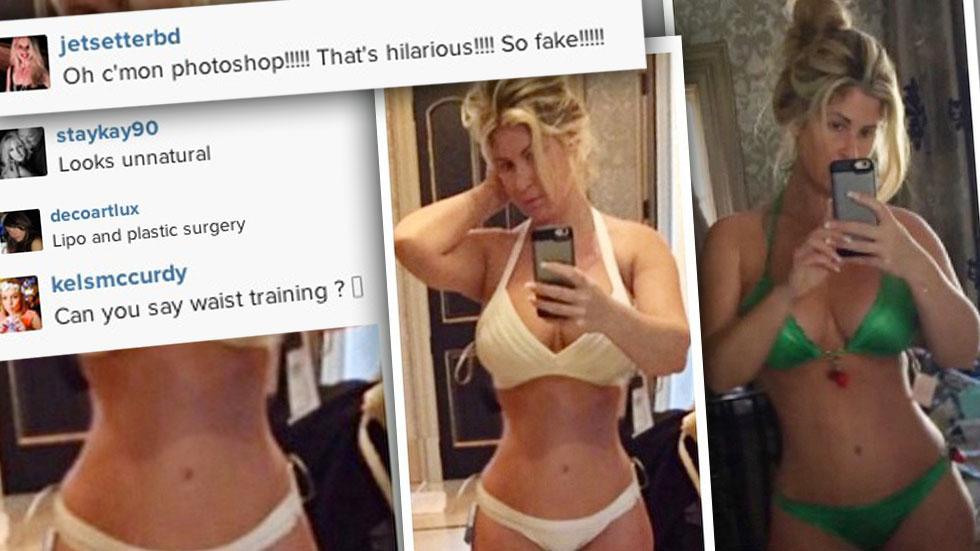 Did she or didn't she?
Bravo star Kim Zolciak shared several bikini snaps on her Instagram on Tuesday, Jan. 20, sparking controversy over the authenticity of her suddenly slim waistline.
The mother-of-six wore two bikinis that showed off her fitter figure. In both snaps, Zolciak's ample curves were on full display, while her legs and waistline appeared slimmer – and less natural, according to commenters – than usual.
Article continues below advertisement
Anticipating speculation, the Real Housewives star provided an explanation for her impressive physique:
"Trying on bikinis for my vaca with hubby.." wrote Zolciak, who married NFL player Kroy Biermann in 2011.
http://instagram.com/p/yFSXZSt3l2/?modal=true
She added: "Thankful for @310nutrition for keeping me in check! The shakes really help me! You guys keep asking what's my favorite flavor, honestly I'm torn between vanilla and chocolate! I LOVE peanut butter so I add that to the chocolate one, and I love strawberries so I add that to the vanilla one! It's all depends on your preference. The cleanse is really helpful to jumpstart you! #NoFilter #HerveandAgent #ImPosingForYall #310shake #310Nutrition #MyHubbyLovesTheseCurves."
Unfortunately, the reality star's sexy snaps seemed to infuriate some Instagram users, who said her "unnatural" body must have been Photoshopped.
While Zolciak has undergone plastic surgery in the past – including a tummy tuck last Fall – she continues to deny any tampering with her recent posts.
After her last controversial photo in September, the reality star addressed her critics in a extensive Instagram post.
"I think I have officially read it all after posting my bathing suit pic yesterday!" she wrote to fans. "From photoshopping a thigh gap, to photoshopping my breast, to photoshopping a butt how about.. it's me alllll F—KIN ME haters ..every last bit is ME!! Zoom in real f—kin close too... I dare you... no photoshopping!!"
Do you think she Photoshopped her bikini bod pics? Let us know in the comments below!