'My Five Wives' Baby Born Premature Struggles To Survive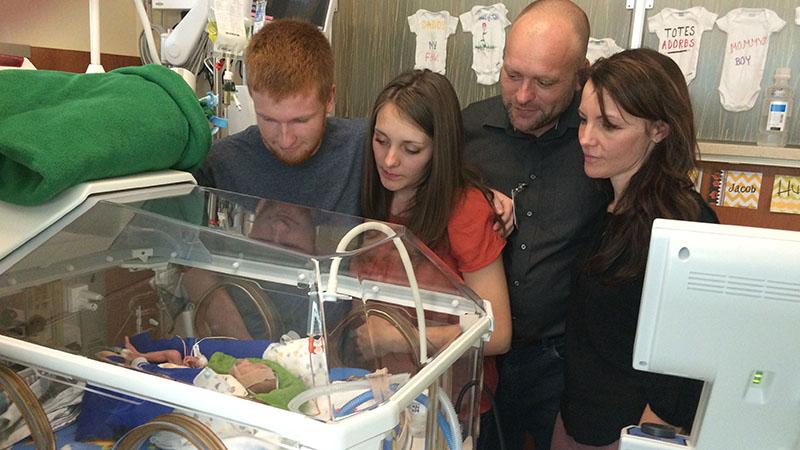 My Five Wives star Karlie Jessop, the oldest daughter of Brady Williams and his first wife Paulie, gave birth on Oct. 29 but the baby boy was premature and is struggling to live.
Jacob "Huck" Jessop was born at 25 weeks weighing only 2 pounds 1 ounce. The micro-preemie "has a strong heart, and an even stronger will to live," the family told fans of their TLC reality show. "We are confident that with continued love, many prayers, and attentive hands, our baby Huck will have an amazing homecoming sometime in late February. Please pray for baby Huck."
Article continues below advertisement
Huck, who had surgery on Dec. 5 to fix intestinal problems, is making progress. On Sunday, the Williams family posted an update on their Facebook page saying, "Today has been a big day for #babyHuck! He got extubated and is now breathing more on his own with the help of Nip-V a different less invasive breathing devise."
And even bigger news: "HE POOPED! This is major for him because of surgery, the morphine he's been in and not to mention he hasn't really pooped on his own for the past 2+ weeks! Mom has never been so happy to see poop! Because he pooped they are going to start feeding him again. It will be small at first but it's a start. SO PROUD of our baby boy!!"
Huck is Williams' first grandson. He has 24 children with his five wives and one more baby on the way. His wife Nonie is due this spring.
Send your well-wishes to Karlie and the whole Brady family below.