Kanye In Kontrol! Rapper Demands Kim & North Only Wear Pre-Approved Outfits & His Other Ridiculous Rules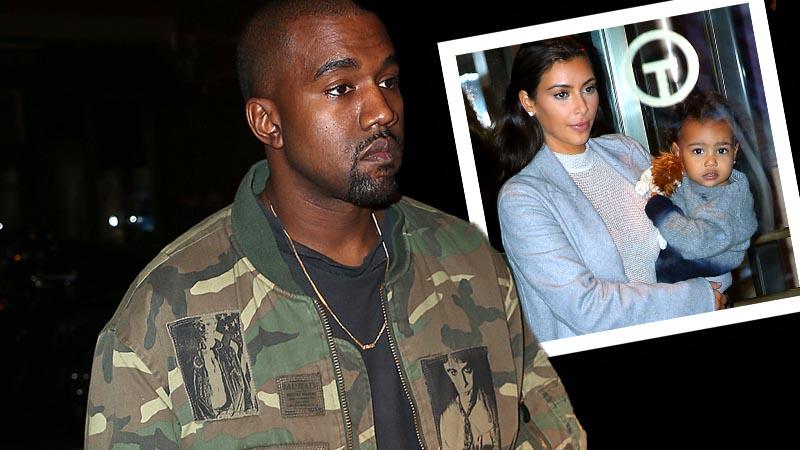 Kanye West is in control of his own career, but now he's taken over his wife Kim Kardashian as his next big pet project.
"Kanye has a vision and wants everything to line up with that," a friend tells Life & Style. "So he's given Kim rules that she always follows."
The magazine reports that 34-year-old Kardashian's appearance is of the upmost importance to West, 37. He demands approval over all her outfits and insists she wear only particular designers, like Givenchy.
Article continues below advertisement
And when they're apart, he still has the final say on her style for the day. "Every morning, she sends him pictures of the outfits she's going to wear for his approval," reveals the pal.
West isn't just into controlling Kardashian's clothing, either. "He likes her to be natural and has demanded that she wear less makeup," says a source.
The reason? "He wants her to show their daughter, North, that natural is beautiful," the source explains.
But 19-month-old North has her own rules, too! "Kanye decided early on that she would only wear neutral colors," says an insider. "The only time North ever gets to wear something super comfortable is when Khloe watches her — it's fashion first with Kanye!"
As Radar previously reported in 2013, Kardashian decided to start expand the Kardashian Kids Collection to include baby clothes after looking at designer pieces for her own daughter, and finding "nothing that really grabbed her and was cost effective."
But West jumped in with the idea that high-fashion baby clothes were the next big thing — and he would make the trend happen.
Do you think Kanye's controlling ways go too far, or is he right to lay down some rules for his family? Sound off in the comments.