Exclusive
Tears & Resentment — Beyonce Breaks Down On-Stage Amid Marriage Crisis With Jay Z — 'How Could You Lie?'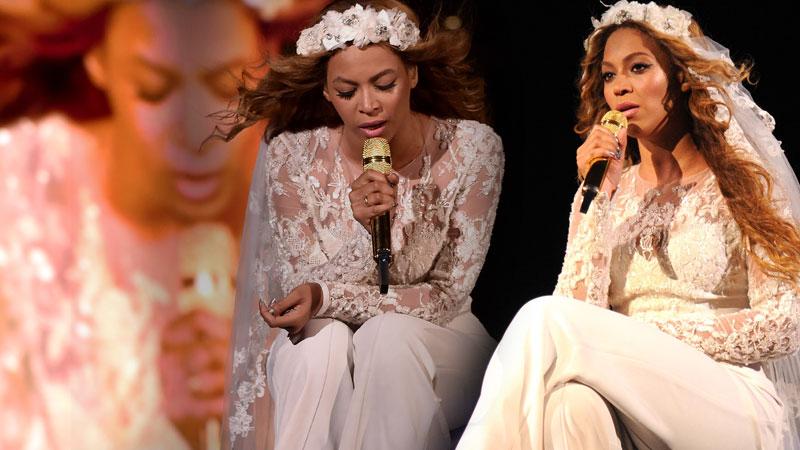 As rumors of imminent divorce swirl, Beyonce cracked under pressure at her L.A. concert Sunday night, breaking down on stage in front of fans as she belted out an emotional song about a cheating husband.
Her rendition of the accusatory "Resentment" — while wearing a bridal veil — has been a loaded section of the On The Run Tour with Jay Z all summer. But it seemed especially weighty on Sunday at the Pasadena Rose Bowl, as reports broke that she and Jay Z are no longer staying in the same hotel on tour. And as she let herself dig in to the song, her emotions became clear, even to the point of tears.
Article continues below advertisement
"She looked like she had been crying from the time the concert began," an eyewitness tells Radar. "Her eyes were really glassy and red, and it looked like she was just going through the motions on stage."
"When she finally sat down to sing 'Resentment,' she looked like she was ready to let it out," the source said.
Singing a line about a mistress that goes " I know she was attractive but I was here first," Beyonce "stopped after the word 'but' and gestured at her own body in frustration," the source says. "Not long after, she stopped singing and seemed overcome with emotion. The camera was cut in tight so you could literally see her eyes welling up before she closed them and attempted to collect herself."
And as she progressed to the ending refrain, "How Could You Lie," Blue Ivy's mom "didn't even hold the mic up to her mouth!" the source says. "She was just wailing it out and really seemed lost in her own world."
"She never really got her energy up again after that and only smiled one or two more times during the rest of the concert," says the source. "Any time she interacted with Jay Z, it seemed like she was just going through the motions. The strain between them was obvious!"