An Exceptional Wedding Present! 'The Bachelor' Couple Sean Lowe And Catherine Giudici Get A Backyard Makeover From Ty Pennington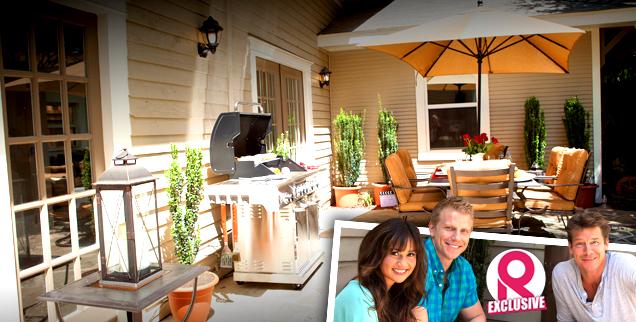 Article continues below advertisement
In a period of two days, Pennington transformed the outdoor living space of the Lowes' new Dallas, TX, home, which they purchased earlier in April.
"The actual shoot was great because we got to meet Ty and he got to see the house and the backyard and what it looked like," Lowe said. "It was kind of a clean slate."
While Pennington handled most of the design choices, the Lowes did get to escort him during a Sears shopping trip.
"Of course we had to make a trip to Sears and look at all the wonderful products they have for the backyard and the patio sets and the fire pits and all the other little knick-knacks that go along with it," Lowe said. "And then the following day, everyone comes to the house and does the complete transformation."
Pennington used both Catherine and Sean's ideas to come up with the finished product.
"We definitely had a voice, he listened to us, what our needs were and what kinds of things we would be using the backyard for," Giudici said. "So he definitely took that into account when he was looking at the pieces with us and explaining to us how this will work for our needs: hosting parties outside and enjoying the fun of that hosting position."
Article continues below advertisement
Pennington also had to satisfy both of his customers' ideas of how they envisioned the space.
"Catherine wanted it to be 'very chic,' as she puts it," Lowe said. "And I wanted it to be more of a manly space where I can grill and have my buddies over and that kind of thing."
"Ty heard both sides and I think he put it together just perfectly so that she got the chic-ness that she was looking for and it still feels like a place where I can grill steak with my guy friends," Lowe said.
Giudici's favorite feature of the backyard is the grill's convenience next to the eating area.
"The grill is right next to the main dining space, so it's easy to have conversations when Sean's grilling," she said. "The grill right next to the table is perfect."
And Lowe loves that he can throw parties for a lot of friends.
"We have plenty of seating," he said. "Our objective was to host people and we've definitely accomplished that because we can comfortably seat probably 15 or 18 people and just really create that party atmosphere that we wanted."
Article continues below advertisement
While the Lowes haven't thrown a formal party yet, they have gotten the chance to barbeque with Lowe's parents.
"We had my parents over and had a little mini party with them," Lowe said. "We did chicken breast on the grill and they came out great. Everything worked out great."
In the end, Catherine and Sean loved their backyard makeover.
"We are just really thankful for what Sears Outdoor Living, Shop Your Way, Kenmore and Ty did for us," Giudici said. "It was just such a fun experience."
"I'd say we went into it with high expectations and Sears and Ty far exceeded those expectations," Lowe added. "It was a lot more than we ever expected."
Check out the full video series of Sean and Catherine's backyard makeover here!
youtube