'Worst Voice Ever'? Porsha Williams Tanks Pop Star Debut In New York -- Fans Ask 'This Is A Joke, Right?'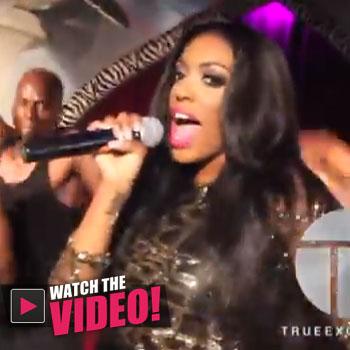 Joining the not-so-illustrious ranks of wannabe pop star housewives like Melissa Gorga, Kim Zolciak and LuAnn DeLesseps, Porsha Williams performed her new single "Flatline" to a sold-out crowd over the weekend in New York City. But according to fans, she should stick to her day job.
Surrounded by a few backup dancers, whom she auditioned just days before the performance, The Real Housewives of Atlanta star took the stage at El Morocco Nightclub and belted a dance remix of her single.
Article continues below advertisement
Singing with a track, Williams missed several notes and dance moves, but she tried to make up for it by treating her fans to a booty-popping twerk session at the end.
"I love you from the bottom of my heart," Williams told the crowd as she left the stage.
Although the crowd appeared to enjoy the performance, the reviews on social media told a different story.
"This is a joke, right?" one user wrote.
Another slammed, "Worst voice ever."
And yet another fan critiqued Williams by saying she didn't prepare enough for her big debut.
"She needed more training. They threw her to wolves too quickly. At least teach her how to sing with a track. I personally think they set her up for failure," the fan wrote.
Other users jested, "Most embarrassing performance ever. WOW....a complete and utter mess," and "Kenya Moore must be dying laughing right about now."
As Radar has reported, Williams is no stranger to the stage, having had moderate fame as an evangelist preacher before joining RHOA.
What do you think of Williams' performance? Watch it and tell us below.
youtube=https://www.youtube.com/watch?v=aPgkSXwEwIw&w=560&h=315