Exclusive
Lindsay Lohan's Ex Oscar Lusth Tells All: 'She Went Off The Deep End … She's Got Her Demons'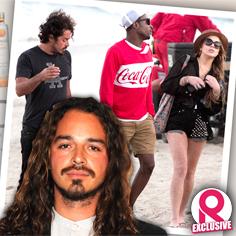 Lindsay Lohan's already had a week of disappointments — from news that her docudrama won't be back for a second season, to the finale tanking in the ratings — now, there's one more bombshell LiLo may not want to hear.
Lohan's ex Oscar Lusth is opening up his fall-out with the starlet, his thoughts on if she can stay on the road to recovery for good, and sent a message to his one-time love interest.
The two-time Survivor contestant, 32, was first linked to the Mean Girls actress in 2011, and was so close to her family that he was even photographed with her and momager Dina Lohan in Malibu circa 2012.
Article continues below advertisement
But things changed just around the time Lohan got out of rehab in July 2013, and the two had a falling out the following month in which they haven't spoken since.
"She kind of went off the deep end a little bit," Lusth said of the last time he spoke with the 27-year-old.
As we previously reported, Lohan and Lusth used to hit up the L.A. party scene together. Just six months after she got out of rehab in 2011, the couple was seen arguing and boozing it up at Palihouse.
Since then, Lohan has completed her sixth stint in treatment and, according to online reports, penned an 80-person "cut" list of the bad influences in her life which could very well why Lusth hasn't heard from the actress. But regardless if he made the cut or not, Lusth isn't following Lohan's road to redemption on her OWN show, Lindsay.
"I don't really watch TV, and I don't really pay attention to that kind of stuff," he said. "I know what it's like to be in the public eye — she's got her demons and her issues.
"She's a talented woman. She's fighting her battle and I hope she can come back and she can win.
He added, "I think she's so talented and that she can get back to that place where she was before she got into drugs — I hope she stays strong and finds herself again."