Cameron Diaz Admits Lesbian Liaison: 'I've Been With A Lady'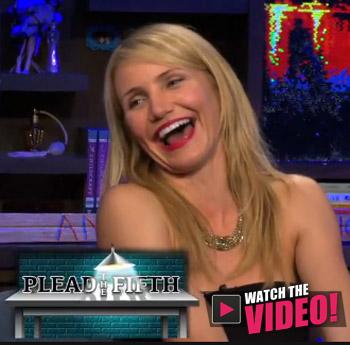 In the May 2014 issue of Glamour UK, Cameron Diaz said that she thinks "all women have been sexually attracted to another woman at some point" -- and she meant it!
Known for her past relationships with the likes of Justin Timberlake, Diddy and Alex Rodriguez, it turns out the A-list actress has also had a lesbian liaison of her own with another woman.
During a round of 'Plead the Fifth' on Watch What Happens Livewith Andy Cohen, Diaz, 41, admitted to being with another woman.
MORE ON:
Watch What Happens Live
Article continues below advertisement
"Have you, yourself, ever swam in the lady pond?" Cohen asked her.
"Yes, I have been with a lady," The Other Woman star admitted.
"More than once?" Cohen pressed.
"You didn't ask explicitly how I was with a lady, but I have been with a lady," she coyly revealed.