Exclusive
'Basketball Wives LA' Star Brandi Maxiell Slams 'Nasty, Heartless' Costar Sundy Carter For Insensitive Baby Comments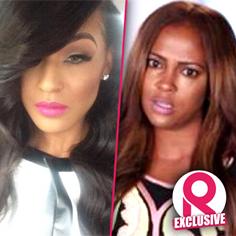 Basketball Wives LA star Sundy Carter delivered a low blow on Monday night's episode, after she told Brandi Maxiell to shut up and "go have a baby" during a heated exchange.
As fans of Basketball Wives know, Maxiell has been open about her pregnancy struggles since being diagnosed with ovarian cancer in 2007. Now, she exclusively tells RadarOnline.com that she's "disgusted" with her co-star's "insensitive" comments.
Article continues below advertisement
"It hurts. I'm trying to be strong, but she is so disrespectful. She knows I'm struggling and would give anything to have more children. It's unfortunate she stooped that that level," Maxiell told Radar.
The reality star and her Orlando Magic's power forward Jason Maxiell welcomed their first child in 2011 through IVF, but she is still struggling every day in her quest to conceive a second child.
"Over the past year, I've been down and out, but my husband has been amazing. He's been my rock and so supportive and positive," she said.
Choking back tears, the cancer survivor continued to blast her co-star's baby comments.
Faked Scenes, Lies & Payoffs – The Ultimate Guide To Reality TV Shows
"Sundy's comments are disrespectful on so many levels. I don't know how she can even be a woman and say something like that. This is ignorant because there are so many women who are going through the same struggles as myself.
"I've never met a woman who is so heartless. She is nasty and disgusting to me," she added.
Article continues below advertisement
Although the verbal argument occurred last year, Maxiell was "in the dark" about the baby comment until earlier this month.
"Her insensitive comment was brought to my attention about two weeks ago. I guess at the time, we were just yelling, and I didn't hear anything she was saying. But after seeing the episode, my gut reaction was just like, 'You b*tch! How could you say that?!'" Maxiell revealed.
As this season of Basketball Wives LA wraps, Maxiell is staying positive about the future.
"My husband and I do want another child, but I'm not ready to start IVF yet… For now, I'm focusing on my beautiful son and not my co-star's negativity," she said.