'Biggest Loser' Winner Rachel Frederickson Gains 20 Pounds, Says She's At Her Perfect Weight Now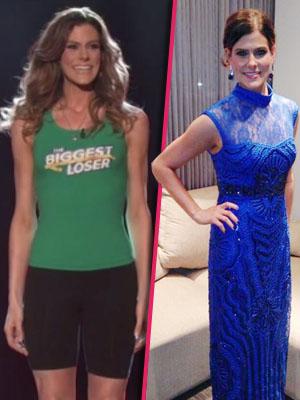 Rachel Frederickson stirred a lot of controversy when she debuted her skinny new body at The Biggest Loser finale, but the winner has since gained 20 pounds and feels she's now at her perfect weight.
When she started the weight-loss competition, Frederickson, 24, was 260 pounds and dropped a staggering 155 pounds landing her 5'4" body at a frail 105 pounds.
Now at 125 pounds, The Biggest Loser winner feels she's finally at a healthy weight.
Article continues below advertisement
"I've gone up about 20 pounds," Frederickson told Us magazine. "I think I'm at my perfect weight!"
Frederickson admits she's more relaxed with her workout routine and eating habits now, even snacking on Oreo cookies occasionally.
"I work out an hour, six days a week. I love classes like SoulCycle," she said.
"I also loosely count calories, but sometimes I might eat an Oreo. It's not the end of the world."
And keeping in touch with her Biggest Loser family helps her to stay on track.
"We have monthly calls with the other contestants and the show psychologist. And our nutritionist is available 24/7," she revealed.
"I'll call her from the farmers' market and say, 'What is this? How would I cook it?'"
What do you think about Frederickson's 20-pound weight gain — is it the perfect weight for her?