Cheering Away Her Legal Woes: Teresa Giudice Celebrates Daughters' Cheer Competition Win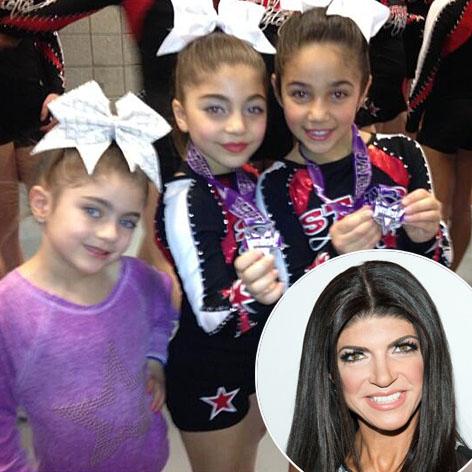 You'd never know that Teresa Giudice is facing a possible jail sentence with the way The Real Housewives of New Jersey star was celebrating this weekend.
She was overjoyed that daughters Milania and Antonia's cheerleading team won first place in a local competition.
"Yeahh Milania & Antonia's cheerleading team won 1st Place !!!!" she wrote on Sunday along with a photo of her girls showing off their medals.
Article continues below advertisement
Teresa and her husband, Joe Giudice, have been regulars at the girls competitions the last several weeks.
That will likely have to stop when the couple receives their sentences after pleading guilty to multiple fraud charges including providing fake tax returns with mortgage and loan applications in order to inflate their income, and then lying in their bankruptcy application in order to hide income and assets.