Exclusive
Ryan Seacrest's Diet Secret: 'Idol' Host's Assistant Keeps Him Supplied With Green Juice All Day!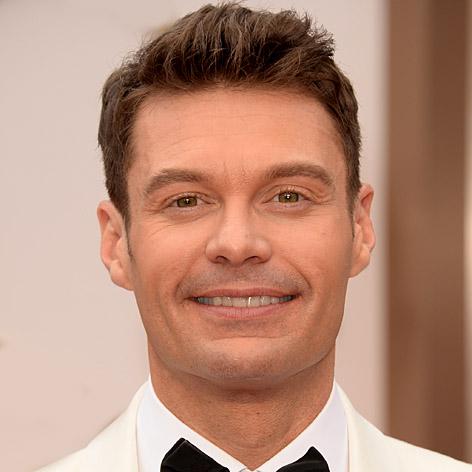 Ryan Seacrest has always stayed stick thin while in the public eye — but now, an insider has revealed the American Idol host's "bizarre dieting is going a little too far."
According to the source, the ultra successful media mogul "now demands that one of his four assistants trail him during all working hours with a high tech insulated briefcase filled with the macrobiotic green drink that he swears by to keep his skinny figure."
Article continues below advertisement
Seacrest, 39, has spoken about his dietary practice before, telling Men's Fitness: "I love vegetable juices. Sometimes I'll make juices--with or without pulp, it just depends."
But now, the source said, he has an assistant ready to hand him the green juice at all times and "Ryan has also completely given up drinking alcohol for dietary reasons. He was never a heavy drinker previously, but now, he doesn't imbibe at all so that he can save the calories."
The workaholic TV star has admitted he grew up an overweight child in Dunwood, Georgia, who kept his shirt on at the community pool and ate cookies and nachos behind his mom's back.
Although Seacrest has gone on to fame and fortune, he has said, "I do remember that feeling of growing up and being a little bit overweight. I also remember at times being teased about it and because of that it's still in my brain. I never want to feel that way again."
And Seacrest can't be feeling good that the popular reality singing show The Voice, hosted by Carson Daly, which returns Feb. 24 on NBC, has taken the momentum away from American Idol.
Both hosts have battled weigh problems in the past, as Daly was once much heavier until he lost 30 pounds in 2005.
"As far as Ryan's diet goes, he's either paranoid in the extreme about his health, or playing a game of one-upmanship with his health nut career rival Carson!" the source said.