Oscar Pistorius Expected To Take The Stand, Could Be Lead-Off Defense Witness In His Murder Trial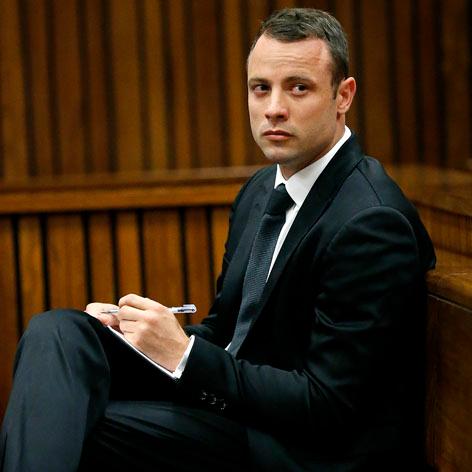 The prosecution is expected to wrap up its case in the Oscar Pistorius murder trial within the first few days when the trial resumes Monday. Then it will be the defense team's turn, and Pistorius himself may be the very first witness.
The Olympian's attorney, Barry Roux, has indicated his client could be his lead-off witness and his testimony could form the basis of his defense strategy, ABC News is reporting.
Article continues below advertisement
As RadarOnline.com has been reporting, Pistorius, known at the Blade Runner in his native South Africa, shot and killed his girlfriend, Reeva Steenkamp, on February 14, 2013.
The double amputee has always maintained he fired his gun after hearing a noise coming from his master bathroom and thinking there was an intruder.
Law enforcement officials say no way, and charged him with murder.
Their position is that Pistorius and Steenkamp had been arguing and that when she took refuge in the bathroom, he knowingly shot her through the door.
Three neighbors testified for the prosecution that they heard a woman's screams coming from the house, indicating they either heard an argument between the glamorous couple or that they heard Steenkamp scream after she was hit the first time, bringing into question how Pistorius wouldn't have known it was his girlfriend in the bathroom and why he'd fire three more times.
The defense also plans to challenge all these so-called ear-witnesses.
Come back to RadarOnline.com this week for all the latest developments in the Pistorius trial.