Move Over, Ladies! NeNe Leakes Ready To Rumble With 'RHOA' Men, Todd Tucker & Peter Thomas — WATCH!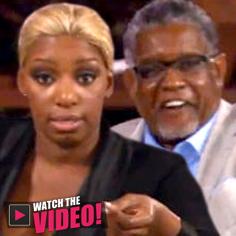 NeNe Leakes has been known to throw shade at her fellow the Real Housewives of Atlanta co-stars – and now she's moving on to their men.
In a sneak peek for the March 23 episode on RadarOnline.com, Kandi Burruss' fiancé Todd Tucker gets riled up by Leakes during a heated exchange.
Tucker raises his voice to Leakes while the group is sitting together, though for what exact reason, it's unclear.
"It's okay to school me, but don't f**king talk down to me and then school me," Tucker scolds the I Dream of NeNe star.
Article continues below advertisement
Leakes doesn't apologize for upsetting him.
"If you don't like the way I say it, then that's your problem," she shouts back.
Later, Leakes continues to take on the men, getting in Peter Thomas' face.
"You stop trying to be a damn b*tch!" Leakes shouts at Cynthia Bailey's husband.
The altercation quickly escalates as Leakes' husband Gregg steps in to argue with Thomas.
Held back by Tucker, Gregg yells at Thomas, "You better not get your a** in my wife's face!" before going into a profanity-laced rant.